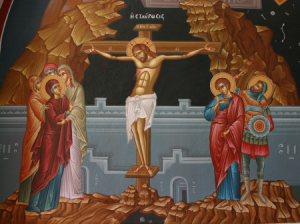 "Through Christ we are given revelation about the nature of God-Love. The perfection consists in that this love humbly, without reservations, gives itself over." –Archimandrite Sophrony
God exists as Gift. He is relentlessly Self-emptying, pouring His love and life into this world for our sakes, undeserving wretches though we are. We have such difficulty "knowing" the Divine because we are captives of the flesh, and the flesh does not understand that greatness is perfected in weakness.
People think they seek the Living God while in reality they chase idols concocted by their fallen wisdom. Fleshly piety is "sensual and devilish" (James 3:15), whereas true knowledge of the Eternal One is "first pure, then peaceable, gentle, and easy to be entreated, full of mercy and good fruits, without partiality, and without hypocrisy" (James 3:17). We are all frustrated by the quietude of God, forgetting that His greatest works are cloaked in silence. To this day, pagans scorn the fact that the Most High was born of a peasant girl in some dank cave, some foul nook, surrounded by beasts of burden and bewildered shepherds.
God works with a "secret hand" (Exodus 17:16 LXX). Humans truly have no idea what it means to be strong, to be wise, to be powerful, to be perfect, to be holy. Despite our immersion in Scripture and the sacraments, we remain retarded by the effects of the fall. "Thus says the Lord, your Redeemer, and He that formed you from the womb: I am the Lord that makes all things; that stretches forth the heavens alone; that spreads abroad the earth by Myself; that frustrates the tokens of the liars, and makes diviners mad; that turns wise men backward, and makes their knowledge foolish" (Isaiah 44:24-25).
Turns wise men backward. Believing ourselves enlightened, we hunt for a false god who, Apollo-like, streaks across the sky in a flaming chariot, raining wrath or prosperity or whatever tends to gratify our given lusts and prejudices. We imagine a Being bound by and dependent upon the law of cause-and-effect which orders the physical universe.
Have we forgotten the awesome words of Saint Paul? "But God has chosen the foolish things of the world to confound the wise; and God has chosen the weak things of the world to confound the things which are mighty; and base things of the world, and things which are despised, has God chosen, yea, and things which are not, to bring to nought things that are" (I Corinthians 1:27-28).
Let us not obey our base instincts to invoke a god of miracles. Without doubt, God has manifested His power in fearsome and brilliant fashion more than once. Yet we know God best through Jesus Christ, Who was nailed to a cross. We worship the Crucified God. Never forget that!
Martin Luther, the irascible ex-monk, preached these convicting words one cold February morning in 1517, "Man hides his own things in order to conceal them; God hides His own things in order to reveal them." The nature of man is to cover up that which shames and embarrasses while flaunting that which flatters and impresses. Given this mentality, it is no surprise that God seems so elusive, for He graciously hides His glory while making no effort to obscure His humiliation. This is the meaning of the Incarnation and the Crucifixion. Every time we kneel before a cross, let us remember the example of the Eternal Logos: "Who, being in the form of God, thought it not robbery to be equal with God. Instead, poured out in emptiness, a servant's form did He possess, a mortal Man becoming. In human form He chose to be" (Philippians 2:6-7).
Poured  out in emptiness, a servant's form did He possess. As we approach the winter fast of Advent, let us meditate regularly on the selflessness of the Ultimate Self. The whole life of the Trinity is self-giving. The three holy Persons give their love to one another, defer to one another, sacrifice for one another. In turn, they together, in the concerted unity of the Godhead, pour forth their love–indeed, their very Selves–upon the world for the sake of rotten man.
"And all that dwell upon the earth shall worship Him, whose names are not written in the book of life of the Lamb slain from the foundation of the world" (Revelation 13:8). Slain from the foundation of the world. That means that God, in creating, knew full well that He would have to endure the most hideous torments out of love for His creation. God is not periodically Gift. Rather, His eternal existence is kenotic, self-emptying, self-offering.
What love. . . . What boundless love. What impossible love. What irrefutable love. What confounding love. The Triune God granted us life so that He might one day die to preserve it.
"And at the ninth hour, Jesus cried out with a loud voice, 'Eloi, Eloi, lama sabacthani?' which is translated, 'My God, My God, why have You forsaken Me?'
Some of those who stood by, when they heard that, said, 'Look, He is calling for Elijah!' Then someone ran and filled a sponge full of sour wine, put it on a reed, and offered it to Him to drink, saying, 'Let Him alone; let us see if Elijah will come to take Him down.'
And Jesus cried out with a loud voice, and breathed His last."  
(Mark 16:34-37)