Marianna Orlandi, Ph.D also contributed to this article.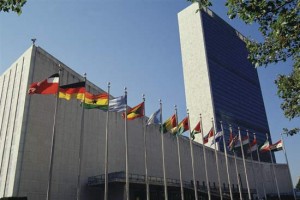 Holy Week did not deter an open attack sponsored by the government of Finland on the Catholic Church and religious teaching on family and sexuality at an event at the United Nations last week.
Finland's government screened a documentary on an aid worker determined to confront Catholic "taboos" on sex. "Hyvästi Afrikka" – Leaving Africa – was advertised as a "story about friendship and the empowerment of women."  Yet Finnish filmmaker Iiris Härmä's intention became evident minutes into the movie as a scene between Dr. Riitta Kujala and her longtime friend Ugandan nurse Catherine "Cata" Othieno discuss the "hypocrisy" of the Catholic Church.
Though Dr. Riitta worked in Uganda for 27 years, attending to the medical needs of rural Ugandans, the film focuses on the controversial sexuality education she and Cata offered to adults and children – and on the delayed renewal of Dr. Riitta's work permit. The delay is attributed to a growing opposition against homosexuality in Uganda.
The filming took place around the time Western countries were ratcheting up pressure on African countries to liberalize their laws on homosexuality.
The event, which was opened with remarks by Finnish Ambassador Anne Lamilla, was co-sponsored by a Finnish NGO which funded Dr. Ritta's work in Uganda and receives 80% of its funding from the Finnish government. Though the film is specific to work in Uganda, missing from the event were any representatives from the Ugandan government.
Härmä said the film took on a life of its own when an anonymous letter was sent to Ugandan government officials accusing Cata's group and Dr. Riitta of promoting homosexuality among children. It also accused the two women, who are housemates, of an inappropriate lesbian relationship.
The film documents sexual education workshops with Dr. Riitta instructing with graphic descriptions. Before retiring and returning to Finland, Riitta decides to challenge religious leaders to a "straightforward, taboo breaking" discussion on women and sexuality that inferred that their teachings are responsible for population explosion, disempowering women and keeping families poor.
A main character is a Catholic woman depicted as a "reproductive machine," a victim of her unfaithful husband and his sexual desires.  Shots of religious icons in her home of Benedict XVI, of Jesus and Mary convey that she was under the spell of the Church. The film ends with an enlightened Catholic woman now using contraception and proselytizing others – due to the work of Cata and Dr. Riitta.
The audience was not persuaded.
"This documentary presents contraception as a solution to too many babies," said Anne Belanger, a young woman representing WOOMB International. It does not take into account the culture of Ugandan people and it does not teach women about their fertility."
A young schoolteacher with Pure In Heart International challenged the premise of happiness through sexual autonomy. "From my own experience with teenagers and working with young people I think we are failing them enormously with comprehensive sex education," Marie Cummins said.
Neither the filmmaker nor the Ambassador responded to the young women.