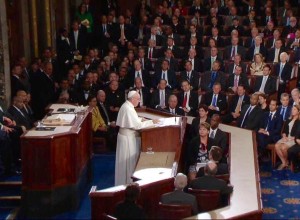 All week my enjoyment of the exuberant visit of Pope Francis was marred by arguments from faithful Catholics close to me who were angry at what he did or did not say or do.
Accusations of socialism, moral weakness and just plain wanting to be liked were flying. I begged them to wait and see what transpired after the visit. I  reminded them of the Feast of St. Matthew, which happened earlier that week. Matthew was the sinful, hated tax collector who became a saint and evangelist. In the BBC TV series, "Jesus of Nazareth" his conversion is very instructive to us.
Notice how the Parable of the Prodigal Son is told by Jesus in Matthew's house, full of sinners while Peter broods in the doorway after railing against Jesus eating in the house of his "Blood sucking enemy!"(earlier scene, Matthew was after him for taxes after Jesus prayed for a miraculous catch). Note how Jesus uses the parable to bring Peter, AND Matthew to repentance and reconciliation.
We who love the Church and fight the good fight get angry in our isolation and that does not win hearts to the Kingdom of God. Mother Teresa said, "Joy is the net by which you catch souls." Her ministry of charity was the means of salvation for millions, most of whom were not practicing Catholics.
We "Older Brothers" who are largely obedient to the laws of God and give Him His due worship each week have to work on being charitable when our errant brethren join us at the Lord's supper.
Just because Pope Francis seemed to be more in agreement with non-practicing Catholics and those who are involved in seriously sinful practices such as abortion and homosexual unions, doesn't mean that he approves of their sin. A good teacher, like Jesus, trying to "catch them being good" finding points of agreement on which to build bridges to make sure they listened to him. Jesus used parables to teach so that the listeners could discover the teaching for themselves without raising their defenses.
I recall my contentious relationship with a relative over social issues. All the great points I think I scored in our debates did not move her as much as a single kindness I did for her when her worldly friends rejected her over a good life choice she made. Pope Francis has had his share of spirited debates, but he knows how kindness builds bridges.
Some of them will need more prayers and fasting to allow the teaching to take root. When President Obama referred to "The least of these", he forgot that the Holy Father meant the unborn. Rep Chris Smith takes him to task on that here.
Last week Pope Francis admonished a joint session of Congress to follow the Golden Rule—to "do unto others as you would have them do unto you"—and said that the Golden Rule compels us to "protect and defend human life at every stage of development," and that "it is wrong to remain silent and look the other way." Yet, every day, Planned Parenthood dismembers or chemically poisons to death approximately 900 unborn babies—the "least of these"— and hurts many women in the process."
The task of engaging those sheep outside the flock is very sensitive. We need to be patient and learn from our Shepherd. But in the meantime, it is essential that we stop brooding like St. Peter on how our virtue and fidelity were not being rewarded during the Holy Father's visit.
First of all, his texts are full of references to the family, and the rights of the frail, the disabled and the unborn. He made it clear with frequent stops to visit them on the side of the road that they are close to his heart. He visited the Little Sisters of the Poor right after his White House visit. Wasn't that a huge move on his part?
Our most direct reward came after Pope Francis was safely out of US airspace. The Vatican revealed that the Pope met privately with Kim Davis, the Kentucky clerk who was jailed for refusing to issue same sex 'marriage' certificates. He encouraged her to "stay strong". She reflects on it here.
In his Wednesday Audience, Pope Francis gave faithful American Catholics another pat on the back.
It was on a religious and moral foundation that the US was born and grew, and on this base it continues to be a land of freedom and welcome. It is not a coincidence that the most advanced economy of the last century has such strong religious roots. Instead, its proof that religion and progress are compatible.
It is not accidental but providential that the message and testimony from the World Meeting of Families was given in the USA. It is the country that has developed the most economically and technologically in the last century without compromising its religious roots. Now they look to the same roots again from the family, to rethink and recharge the development model for the good of the entire human family.

In the family, the individual and society reach a balance. The family will be a basis on which progress in the 21st century continues. (source; Wednesday Audience translation Sept 30, 2015 Rome Reports)

So, fellow elder brothers, lets stop licking our wounds and get going on Pope Francis' charge to set America's future trajectory,  rooted in Gospel values which includes the traditional family, in a way which serves the good of the entire human family.