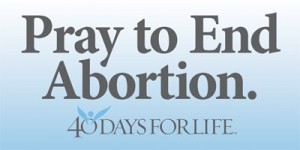 Should your community participate in the next 40 Days for Life campaign — from February 22 to April 1? Ask Gerry Brundage. He would probably say YES.
Gerry lives in Sherman, Texas. He had thought about applying to lead a 40 Days for Life campaign in his town in the fall of 2010 but, in his words, he "chickened out." Finally, in the spring of 2011, he got up the nerve to apply to lead a local campaign.
Boy, is he glad he did!
During their 40 Days for Life this past spring, Gerry and the volunteers in the Sherman campaign developed a relationship with the manager of the Planned Parenthood facility outside of which they were holding their vigil. God answered the prayers of Gerry and his team when that manager — Ramona Trevino — quit her job and that Planned Parenthood office went out of business.
This past summer, 40 Days for Life national director David Bereit joined Gerry and all the faithful Sherman prayer warriors for a celebration rally outside that closed Planned Parenthood … and they were joined by Ramona, who thanked God — and the 40 Days for Life volunteers — for getting her out of Planned Parenthood.
Watch the amazing video:
[tube]http://www.youtube.com/watch?v=ATJfGonWw3A[/tube]
Almost every local 40 Days for Life campaign starts because of the faith and vision of one person. Someone like Gerry Brundage. In your community, might that one person be YOU?
You still have until this coming Tuesday, January 10, to apply to lead a 40 Days for Life campaign in YOUR community. Think about it, pray about it … and if you have any questions, please ask! Then, if you feel called to apply to LEAD a 40 Days for Life campaign in your town, go to: http://40daysforlife.com/apply  You may apply online or by mail, but all applications must be filed (or postmarked) by midnight Tuesday, January 10.
Maybe YOUR city will be the next one to celebrate the closure of an abortion facility or the conversion of a Planned Parenthood manager!