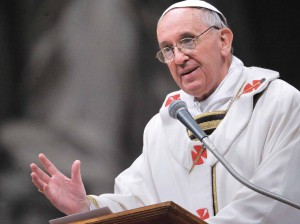 Pope Francis looked up during his General Audience on Ash Wednesday and ditched the script, putting aside his prepared remarks to question the spectators gathered for the weekly encounter, "I want to ask: Your children, your kids—do they know how to make the sign of the cross? Do your grandchildren know how to make the sign of the cross?  Did you teach them?  Do they know how to pray the Our Father, to pray to Our Lady with the Hail Mary?"
The Pope, who is renowned for his casual—almost pedestrian—mass communications style, preached the meaning of Lent almost exclusively by using familiar examples and hypotheticals to address the crowd. In explaining the meaning of Lent, Francis broke from the catechesis cycle for his General Audiences this year, in which he has been expounding on the Sacraments.
Lent is an opportunity to "live our Baptism through and through," said Francis, and to resist the pressure of a culture which thinks it can do without God, and in which parents no longer teach their children to pray.
The Pope's piercing questions in this regard resonated in St. Peter's Square, where pilgrims stand shoulder to shoulder with simple tourists. Nearly 50,000 were on hand, including some bearing distinctive "ash tags" on their foreheads, indicating their Catholic identity.
The Pontiff noted that the 40-day spiritual retreat of Lent "will lead us to the Easter Triduum, memorial of the Passion, Death and Resurrection of the Lord, heart and center of the mystery of our salvation." This period, which many Christians mark with fasting, prayer and penance, said Pope Francis, helps us "to come out of our weary habits and lazy addiction to the evil that deceives us." Building on the language of dependence, Francis said that "This addiction to non-Christian behaviors and to comfort drugs our heart!"
If the talk of deceit and addiction and evil, and pointed questions about children and the sign of the cross, seem heavy for a weekday morning, Pope Francis had not yet arrived at the heart of his talk, which queried whether Christians sufficiently put their faith into action. Too often, we become "accustomed to situations of degradation and misery, which we meet when walking through the streets of our cities and our countries," he said.
He ticked off a little litany of the evils we tolerate. "We are accustomed to violence, as if it were daily news taken for granted; we are accustomed to brothers and sisters sleeping on the street, who have no roof for shelter," he said. "We are accustomed to refugees in search of liberty and dignity, who are not received as they should be."
But it is not all gloom and doom if we use Lent to create "a turning point which can foster a change in each one of us: conversion," said Francis. "Lent comes to us as a providential time to change course, to regain the capacity to react in face of the reality of evil that always challenges us." Lent is the proverbial second chance that so many people yearn for.  "We all have need to become better, to change for the better," said the Holy Father.
Previously: Francis on the Anointment of the Sick