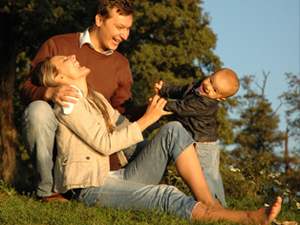 Emily and I drove home from the hospital in complete silence. The gravity of the moment eleven years ago hit me: we were responsible for someone else's life. Gulp.
At this time, I had been a Catholic for only three years. Through conversion, I fell in love with the theology and the sacraments. Yet, I had not come to know Jesus in my heart.  Had I known him in my heart, I probably would have not been struck with such uncertainty on that drive home.
For the next few years, I continued to attempt to lead my life as I saw fit, not the life Jesus was inviting me to live. I continued to chase my career dreams at the expense of my young family.  I justified selfish decisions and actions because I worked hard and thought that I deserved whatever I wanted.
As things unraveled in my marriage and my life, it became obvious to me that my approach was shallow and ultimately hopeless.  In desperation, I began to pray the rosary daily. Through the contemplation of the mysteries on the life of Jesus, I started to feel drawn to read, study, and write about the daily Scripture readings. I began to connect emotionally to my faith, to know and love Jesus.
During several months of prayer and contemplation, the Holy Spirit began to guide my thoughts and desires. I came to understand that I must take up my cross daily (Luke 9:23-24) to serve my wife and children.
It was at that time that I realized I needed to accept the challenge of authentic Christian fatherhood. It was a feeling of relief to understand what I needed to do, but I did not know how to do it. Fortunately, as is written in Isaiah 41:13: "For I am the LORD, your God, who grasp your right hand; It is I who say to you, Do not fear, I will help you."
Soon enough, the Lord brought me a gift in the form of a tiny advertisement in our parish bulletin for a men's program called That Man is You! This is a wonderful three-year program that helps men examine our relationship with God, our wives and our children.
In the time I have spent accepting this challenge to be an authentic Christian father, the impact on my family has been amazing. I have learned that my role as father tends to set the tone for our family's interactions. When I act selfish or harsh, I set the example that these things are acceptable. On the other hand, when I show love and patience, my family is more likely to follow suit.
One of the biggest lessons I learned from the Gospels is to ask specifically for forgiveness. In RCIA we learned to prepare for Confession by identifying our sins by name and number. There is nothing more powerful when I say to my wife, son or daughter that: I am sorry that I did ___, I will try not to do it again, and I ask for your forgiveness." I helps us remember to be humble (in asking to be forgiven) and to be forgiving when we accept one another's apologies (c.f. Matthew 5:22-24).
Our family eats dinner together most nights. We pray together and give thanks for our blessings. We read about the saints and attend mass and confession as a family. Both children will attend a Catholic school in the fall, an indication that as a family, we are ready to dive deeper into our faith. These are the results from the lessons of fatherhood taught to me and I am convinced will bear fruit (c.f. Proverbs 22:6).
When I started this journey, I could have used a practical road map. I was fortunate that the Lord brought me to our parish men's group. Recently, I learned about another great resource for men who want to accept the challenge of fatherhood, Journey to Heaven: A Roadmap for Catholic Men, a book by Randy Hain (also available for Kindle).
Randy is a Catholic husband, father and author. He is a fellow convert and we connected on LinkedIn in 2012. He has written 4 books about his journey and blogs at Integrated Catholic Life. In three sections in a Journey to Heaven, (Faith, Family, and Work) he writes about topics such as pride, prayer, the Eucharist and Reconciliation, friendship, marriage, courage, fatherhood, integrating faith and work, setting priorities and leading by example.
I appreciate that Randy is living our Catholic faith and sharing his lessons learned. In each chapter he covers a topic with several questions for discussion and contemplation. He also enlists the wisdom of other Catholic men to help him draw out practical lessons on fatherhood.
This is a book I wish I would have had at my lowest moment. No matter where you are in your journey as a father, this book will give men support–"Isn't it tough to go it alone?  Seriously, how effective are we if we only rely on ourselves for the answers."—Randy Hain.
And it will help you accept the challenge of Christian fatherhood–"If we are going to be rebels, let's rebel against the world and embrace the path to heaven that leads through the Catholic Church."—Randy Hain