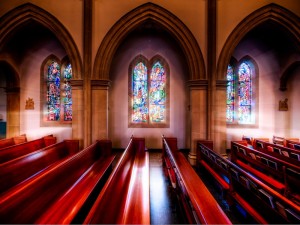 One day last summer, I received an email message from Nick, a man who works for the same company as me. I know him a little. I knew his wife, Michelle, better since she trained me in my job before she had her first baby and chose to be a stay-at-home mom.
Nick had great news.
"I wanted to let you know that at the Easter Vigil this year, Michelle and I entered the Catholic Church. And we had our two children baptized at the same time."
I was so thrilled — an entire family, a young family, becoming a part of the Catholic Church I love so much and entering this exciting faith journey. They have no idea of the joys awaiting them. They will come to have an abiding love for Mass and the Eucharist. They will learn of the special feeling in finding forgiveness in the confessional. They will find inspiration in Scripture and in the lives of the saints. They will discover love both in their parish community and in the universal Church.
Those have become part of my prayers for them. It already has been my prayer for many years for other young families.
I wish I saw more. So many people in their 20s and 30s who either attended Catholic grade schools and high schools or went each Sunday to their parish school of religion classes as youngsters now are absent. I don't know what else they are doing with their Sunday mornings. Sleeping in late, perhaps, or watching their kids play soccer games. Working in the yard or hitting the gym. I don't know.
Maybe they are attending church services elsewhere. I know that has happened to many former Catholics in their 40s and 50s, people who attended grade school and high school at the same time that I did.
That weighs heavy on my heart. So many Catholic men and women stay home on Sundays rather than worshiping at Mass. That is a tragedy, that those people may not have just fallen away from the Church but may have reasons ranging from apathy to anti-Catholic sentiments to even questioning the existence of God. Those people lack prayer and community and grace.
Sadly, I have family members — including children — and close friends who fall into that bunch. I pray for them every day. Will you please pray for them as well?
I also have many friends and family members who grew up Catholic but now are present in other churches on Sundays. Perhaps I should be glad that they still are practicing Christians.
I hurt for those people just as much, though. I miss them very much. The Church misses them, too.
I hear that at many Protestant services on Sundays, as much as half the congregation consists of "former" Catholics (as if there is such a thing). There probably are thousands of reasons why they left the Church and went looking for something else. And there are many other reasons why they landed in their current churches: attracted by a certain preacher, feeling welcomed by a community, dynamic music and worship, politics, the sexual abuse scandal, or perhaps thinking their new faith is more grounded in Scripture than what they perceive in Catholicism.
What rips at my heart is that so many people I love felt alienated or shut out by my Church and didn't find those things in the Catholic Church, the faith that I love.
Just like Nick and Michelle, as adults they can discover Jesus Christ's real presence in the Catholic Church. They can find the fire of grace here. It's not about the charismatic preacher (although we have those) or the inspiring music (although we have that) or the Bible studies and prayer groups (although we have those) or the loving community (although we have that).
The question is: How do we get them to consider returning?
I loved the "Catholics Come Home" commercials that were used on St. Louis TV stations during the last year. I'm sure they were effective for many people. But I think the greatest impact can come from each of us reaching out to our family and friends in love and then sharing our faith with them. Remind them of what they are lacking. Tell them that we miss them. We need to summon our courage and have a real heart-to-heart conversation with them. Then pray.
With whom do you need to talk?
Father God, send us your words so that we can lovingly help your children find their way back.