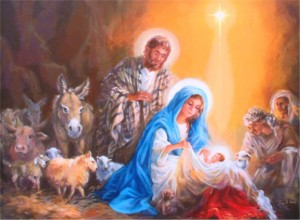 Do you ever feel like going out on the front porch and yelling, "Christmas didn't end on December 26!"
While the focus turns to New Year's Eve, festivities continue for a few more days.  In the meantime, the discount bins start filling with Christmas leftovers and the radio stations go back to their typical fare.  Soon all will return to normal work and school schedules.  The secular world is closing up shop on Christmas.  After all, they've been celebrating since Halloween!
The Liturgical season of Christmas doesn't officially end until the Baptism of the Lord.  Did you notice that the decorations at Church are still going strong?  Also, you may be singing Christmas carols for a couple more weeks!  We still need to celebrate the feast of the Holy Innocents, Mary, Mother of God, the Holy Family, the Epiphany, and the Baptism of the Lord before the Christmas Season ends.  Yes, it is a whole season that just gets started on the 25th.  We contemplate and celebrate the Incarnation (God becoming man), including his childhood with Mary and Joseph.  Pope Benedict has urged us to keep Christmas going through the season, long after Santa takes off his boots.
It's so important to me that our family keeps Christmas through the season.  It's a testament to the fact that Christmas is about more than shopping, TV specials, and yes, Santa Claus.  If we take time to enjoy our decorations and treats during the Christmas Season, we will spend Advent with more anticipation and less premature celebration.
What can we do, in our own homes, our own little ways?
Decorate!  Or at least keep them up.  The Vatican Decorations don't come down until The Baptism of the Lord, January 8th.  Follow suit even if your neighbors think you're crazy or lazy.
Sing!  Keep those carols going.  They stopped playing them on the radio on December 26th, but dig into your CD collection and sing Carols for mealtime blessings and bed-time rituals.
Eat!  After the leftovers run out, why not explore a traditional holiday meal from another culture, or even one of your own.  My husband is German, Czech, French, and Ukrainian.  We could go on for two weeks on that alone.  Why not bake a special batch of cookies this week?
Party!  When planning holiday gatherings for different sides of the family and groups of friends, schedule them throughout the season, instead of cramming them in the week before and after Christmas.  Plan some special treats for the family, a pilgrimage to your Diocesan Cathedral, a museum trip, even movies or a dinner out.  We send our cards out so they arrive during the Christmas Season, not before.  (Well, there may be a little procrastination there.)
Pray!  Let family Rosaries linger on the Joyful Mysteries.  Make extra time for a daily Mass.  Honor your Nativity Set each night with a candle and a special song or prayer.  Take time to show that this season is special.
So, please unite with me to keep Christmas up until the very last day.  I'm sure Mary treasured her last few days with Jesus before his public ministry just as much as she did the day of His birth.
God bless you and Merry Christmas!