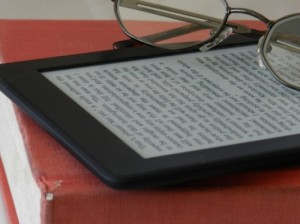 I do quite a bit of reading. Up until recently, I was convinced that paper books were the way to go. And then I thought an iPad would solve all my "I want to read it electronically" problems.
Then, slowly, I started to think about how some of the "just like real paper" e-readers might be handy. I ended up getting one of the simple non-glowing-screen-versions last year, and I had a chance to find out just how having a pocket-sized bookcase at my fingertips could change the reading game for me.
One thing I quickly found, though, was that books could get lost in the shuffle. I needed to get things organized so I wouldn't lose or forget what books I was supposed to be reading or wanted to read next. It seemed silly to keep written lists (in part because a certain child kept snagging my scrap of paper for drawing or a certain mom around the house (me!) kept throwing away the scraps of paper).
My key to organizing titles on my Kindle was using collections as bookshelves.
I have one collection titled "0current" for the books I'm currently reading. (The "0? in the front assures it's always at the top of the list.) Some other collections I have:
Review fiction to read
Review nonfiction to read
Catholic books
Classics
GK (as in Chesterton)
P.G. Wodehouse (a new discovery of mine who I plan to devour)
Reference
Dictionaries
Since books can be in more than one collection at a time, I can cross-shelve in a way that's not possible on my physical bookshelves.
I "archive" (aka "remove from device") most of the books I finish reading. I have not been a big re-reader so far in my life and probably more than half of the books I read I won't reread. I trust I'll be able to find them again through the power of search engine smarts.
Some other helpful tidbits for organizing on your Kindle: