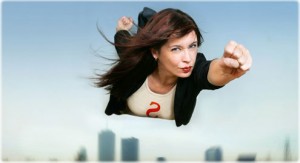 Over the years I've shared many an undergarment adventure–from the Invisible Underwear investigation to the Perfect Panty my niece insisted I buy (yes I still talk to her). Finally, it appears my quest for THE brand has ended. And you know me, I've even found where to buy them at a discount. I mean please, I don't pay $13 for a bottle of wine–I'm not paying that for a single pair of panties!
Anyhow, one of the fun things about this brand is their ever changing variety of sensible solid colors and whimsical patterns. On those groggy mornings when I need an extra dose of empowerment, I reach for the pair emblazoned with tiny lightening bolts. Suddenly, I'm invincible! Alert! Less likely to crave doughnuts! My stretch marks disappear as I hop into my invisible airplane en route to save the world from evil!
In the immortal words of Toy Story's Woody, If you don't have your own version of Power Panties, "Get One!" Preferably a drawer full. Indulgent? Not at all–especially since gold is at an all time high which makes ordering a Wonder Woman bustier completely unaffordable. Plus I think it'd be kinda chaffing in warm weather, ya know?
Just picture your own version of Power Panties — that secret, hidden source of beyond coffee-conquer-the-world-motivation no one knows about but you… aside from that one special friend who was with you when you bought them. When you held up handfuls of choices to which she pointed and responded, "No. No. Yes. Duh. Never. Absolutely." then qualified her answers with, "Solid colors are my favorite but absolutely yes to those lightening bolts!"
That same friend who, after hearing you're facing a rough day, sends you a text with three words, "LIGHTENING BOLTS BABY!"
Power Panties remind you of who you are — a feminine AND strong woman.
Traffic jam on the interstate when you're already 5 minutes late for the hair appointment that's kept life worth living for the last 4 weeks? Power Panties. No, they won't dial the phone to tell Natasha you're running late but they'll keep you calm while you do so.
Not getting the support you need from the high school administrators while your child is suffering from an incompetent, inappropriate teacher? Power Panties! Will they dial the phone and make an appointment with the superintendent? No, but they'll empower you to do so then remind you stay poised and rational while there.
Will your Power Panties punch 42 numbers before reaching a live person in customer service, cook dinner, handle the insurance claims when your teenager totals the car or scrub the toilets 3 minutes before the in-laws arrive? No, but they'll chant in your brain, "You are a strong, smart, capable woman. You can do this!"
Because you know what? You are. You can. And you will. Now let's go panty shopping!