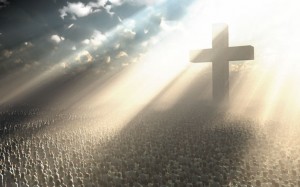 A number of months ago I accepted a request to speak at a Baptist church about an hour and a half drive from where I live. They asked me to speak about the rising acceptance of euthanasia and assisted suicide in Canada, and my Christian perspective about suffering.
Unfortunately as the date drew nearer, this part of Canada was caught under an uncharacteristically cold Arctic front. The week leading up to my speaking commitment was brutal, with temperatures dropping to the equivalent of minus 35 degrees below zero, with the wind chill factor.
Early on the appointed Sunday morning, the temperature outside my house was a brittle minus 30 degrees Celsius. I doubted my rusty 16 year old wheelchair accessible van would even start let alone get me to the church. Everything is stiff when it's that cold.
The van's sliding side-door creaked open but the ramp refused to come down to let me in the vehicle. It simply would not budge. Finally I prayed: "Lord, I'm willing to go but I need your help." I gave another yank on the ramp and it slowly and stiffly came out to finally let my wheelchair into the van. It started on the first try!
Two hours later I was at the church. In their faith tradition, the pastor invites prayer requests before a time of congregational prayer. I was shocked at some very serious concerns that were mentioned: One person asked us to pray for her sister recently diagnosed with ALS – Lou Gehrig's disease; another person lost a chronically ill relative a few days earlier; someone else requested prayer for the wife and family of his employee who unexpectedly dropped dead from a fatal heart attack. There was a great deal of raw pain was in that church.
I had asked that a song called Blessings, by Laura Story, be played before I spoke.
Yes, I spoke about euthanasia and assisted suicide as requested, but then I looked at the hurting people in the congregation and said something to this effect: "And now I want to talk to you, Christian to Christian, about suffering. Many of you are experiencing it. Christ will make sense of your anguish if you remain surrendered to his leading and sensitive to His voice and love."
I was speaking from personal experience and let them know it. I, too, know the scorching pain of loss both of loved-ones and of physical degeneration from chronic, incurable disease (30 years of multiple sclerosis). I continued:
"For those of us who are chronically ill and severely disabled, we must seek the revelation of God's divine love. We must be open to letting God use our pain, and anguish, and trials as vehicles to spiritually mature us and transform us to be more like Christ."
I told them that it is vitally important to resist the temptation to become bitter, not to focus on their predicaments, and simply surrender to the divine love of Christ.
I said that in this earthly life it is more important to understand than to be understood. Christ understands our suffering and He invites us into His suffering on the Cross. It is there that the Why of suffering will ultimately make sense. We will understand just as we are understood.
At that point, I knew I had their complete attention because I could have heard a pin drop in the church … and so I spoke about our hope in the Resurrection and that our lowly bodies will be transformed to be like Christ's glorious body (see 1John.3.2, 2Corinthians 3.18, Philippians 3.21). We will know just as we are known. (See 1 Corinthians 13.12).
The Scripture reading I chose for the service was Romans 8.18-39 and I invite you to read it too. — Mark
[Listen to Laura Story's song Blessings from her album of the same title. It's what I asked the church to play. Laura Story knows pain too. She wrote this song after her husband developed a brain tumor.]