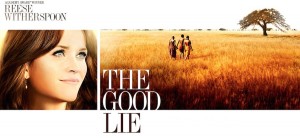 I did not want to see The Good Lie. It was assigned to me by my boss at LifeTeen, Christina Mead (benign dictator). I thought: I already know all about the "Lost Boys of Sudan" (young men who were forced to be child soldiers when their parents were murdered during the civil war). Many sad, but touching and hopeful memoirs about these events have been written. Many wonderful projects have been instituted to assist refugees in establishing a new life in the United States. It wasn't "compassion fatigue" for me (after all, what have I done to help?), I just thought I knew this story. Boy, was I wrong.
I thought: Why can't we just see the Sudanese themselves? Why can't this be an African film? Why do we need Reese Witherspoon's star power (as good an idea as it is to get people watching the film)? I thought I had seen the film by watching the trailer and that there would be no surprises. I thought all the good laughs were in the trailer. I thought, I thought, I thought. But again, I was wrong.
An African film
The Good Lie is an African film. The first half of the film is the main characters as children in Africa. The horrors are not graphic (more like "the banality of evil") but not downplayed either. This film is more interested in what their experiences have done to these "average" young people. Although there is a kind of ensemble cast, we manage to get into each one's psyche and the drama of their lives quite well. We become African with Mamere, Paul, Jeremiah and Abital, in a sense, journey to the United States with them AND get a good look at our serious ridiculousness through African eyes.
It's the little every day adjusting to survival and displacement that makes up the bulk of the film. Actually, when the tension heightens, we almost want to go back to the little things, the mundane beauty of what it means to be human, which is the most enjoyable part of this unique film which employs so much realism that sometimes it feels like a documentary.
A Christian film
These kids are Christian, carry a Bible with them everywhere they go and talk about Moses and Bible stories, as well as pray in a very organic and natural way. God is so deeply embedded in African culture that it would have been a "bad lie" to leave Him out!
Not only that, these children are upright, truthful, fiercely loyal to each other, and kind to others they meet along the way. Forgiveness of the murderous attackers/soldiers is not mentioned in the film. It almost feels irrelevant. The kids somehow accept that it just happened. They are more concerned about the future–now what are they doing to do?–and their own interactions and pardons among themselves.
A Fine film
This is a fine, fine film in every way. The soundtrack is exquisite: not minimalistic and not bombastic. An elegant alternate mix of piano, strings and what sounds like African instruments, as well as a few sung songs (only three, which is two too many in my book) round out the score.
A Fine Actress
A word about Reese Witherspoon. Reese plays a tough Southern-belle-but-almost-a-redneck-woman, at first uncaring and just "doing her job" as she helps the refugees become acclimated to Kansas City, Missouri. But as she experiences the friendship, guilelessness and true gentlemanliness of these strangers, she begins to soften and enter more deeply into their plight.
Reese is just perfect. She does not steal a single scene, and although she's Hollywood royalty, she makes us believe without even trying that she is Carrie, the jaded country girl with the heart of gold who knows that all men are alike and doesn't think life has anything new to show her. Bravo, Reese. Such a classy non-classy act!
An unusual character
There is a fabulous (first time I've ever seen this kind of) minor character in The Good Lie. A sugary-sweet young Christian woman who, unlike Carrie, has no problem stretching to accommodate the newcomers, totally gets what the refugees are going through, and knows how to explain everything to them. You can tell that charity and goodness is just a heartfelt way of life for her.
Later in the film she and Carrie bond over shots of Tequila. Yes. There are Christians like this. Real flesh and blood. Not pathological. Not self-righteous. No hidden agendas.
Reasons to see this film
This is a great film for kids, too. Really? Yup. To see how kids live on the other side of the world live. How they think. The choices they make. Their heroism.
Why should we watch this film? First of all, in order to "go through" something of the refugee experience. Just think of Iraq and Syria and so many other places in the world where millions have been driven from their homes and their countries, cannot go back and are in limbo in every way imaginable. Second, you will be able to relate–at least analagously to these young people.
Third, I think the world has some big lessons to learn from African culture: family, joy, heritage, sacrifice, discipline, order, worship, humility, priorities, honor, gratitude, contentment, camaraderie. But we also see the virtuous in our own bonkers American culture.
There is African generosity and there is American generosity. Two different brands. African? What you do with a little. American? What you do with a lot.