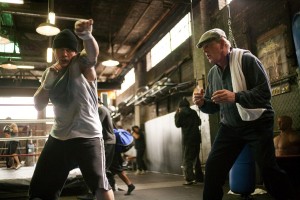 In an emotionally charged scene, Tom Conlon, seated at a slot machine, is shouting at his father, Paddy Conlon. With a pleading tone, Paddy is patiently trying to empathize and reconnect with his son. Tom will have none of it, and tells his father it's too late, lamenting how his dad wasn't the father he needed when he was a young boy. As impenetrable as granite, he won't give up the hurt and bitterness. The tables are turned now. It's Tom's turn to abuse. Tom hurls a handful of coins and expletives into his father's face. 
Grudges the size of Mt. Everest. Hope. Alcoholism. Forgiveness for huge hurts that no amount of human reparation can make up for. In WARRIOR, troubled family relationships are interwoven into a tightly-packed film that is also about the world of Mixed Martial Arts (MMA). This film about family isn't "family-friendly", though, due to the intense content, females in scanty attire, some sexual references, and rough language. 
Gavin O'Connor, director of the highly-acclaimed 2004 movie Miracle, is at the helm again for WARRIOR. The drama stars Tom Hardy (Tom Conlon) and Joel Edgerton (Brendan Conlon) as brothers in competition making a comeback in an MMA tournament called Sparta. Tom, already weighed down with a dark demeanor from raw hatred and self-loathing, also carries a shameful secret from his past in the Marines.
Tom and Brendan's father, Paddy Conlon, played by Nick Nolte, is a recovering alcoholic who has rediscovered his Catholic faith, but is still deeply estranged from his sons due to his abuse and neglect of the boys in their youth. Even so, Tom needs his father to train him for the MMA tournament, though he makes it clear he has no use for him as a father. Neither does his brother Brendan, now married and a high school physics teacher, who instead is training with a friend, Frank Campana (Frank Grillo).
Brendan's marriage to Tess (Jennifer Morrison) is in rough waters, with money problems and the possible loss of their house in the offing. This is the justification Brendan uses for entering the Sparta tournament, while seeing no need to consult with his wife before making the decision. Her strong opposition to the idea doesn't deter him. He sees it as the only way out of their financial troubles. Even though Brendan says he's fighting for his family, his excluding Tess from his decision to fight brings up the whole issue of the role the of the husband in marriage. Should he have handled the matter in that way? Does it fulfill Pope John Paul II's wisdom of husbands and wives "being subject to one another"? 
Love makes the husband simultaneously subject to the wife, and thereby subject to the Lord himself, just as the wife to the husband. The community or unity which they should establish through marriage is constituted by a reciprocal donation of self, which is also a mutual subjection. Christ is the source and at the same time the model of that subjection, which, being reciprocal "out of reverence for Christ," confers on the conjugal union a profound and mature character (L'Osservatore Romano,Weekly Edition in English,16-23 August 1982, page 1 )
The movie bluntly illustrates the circle of destruction one alcoholic in a family will bring if he doesn't change. It's like dropping a grenade into the home and marriage. All sorts of terrible losses result in relationships, finances, and spiritual growth —  a crushing weight on a family that will destroy unity and happiness, and damage the children and spouse emotionally and even physically.
The portrayal of faith in the movie had little that was overt — a few Catholic elements: a rosary hanging from Paddy's rear-view mirror, a scene of him stepping out of a church, and a Bible in his home —  clues that Paddy has gone back to his faith. But rather faith is an undercurrent through the movie.
Does it work as a good fighting story? Absolutely. Moreover, there are so many twists and turns on the way to the exciting climax that you'll be holding your breath with anticipation. 
The fight scenes, an integral part of the movie, grab your interest even if you're not an MMA fan, and I think MMA devotees and sports fans of all stripes will go to WARRIOR just to enjoy those.  I was struck by the emotional portrayal of Tom, who was pulsing with a spirit of revenge that drove him to fight feverishly, like a man possessed. I found it ingenious how the director managed to make these scenes so authentic and powerful, without resorting to gratuitous violence. The cinematographer didn't waste time on pointless special effects that would take away from the story. The camera work had an immediacy about it that accentuated the joys and the sorrows of the story very effectively. 
This film draws you into the question: Can a loss actually be a win? WARRIOR holds its audience in a grip of tension and anticipation so intense that the run time of the film comes as a surprise — it's that riveting — with an ending that drives home the  healing power of forgiveness, reconciliation and love. WARRIOR lifts you out of your seat with a cheer on that score!
[Click to access a free companion study guide to the film. Click here for an illuminating interview with the director.]