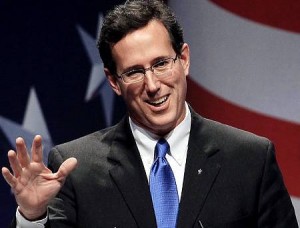 I live in Western Pennsylvania, just across the county line from where former Pennsylvania Senator Rick Santorum grew up. My wife went to the same high school as Santorum. I've followed his career very closely. I'm surprised—but I'm not surprised—by Santorum's performance in the Iowa Republican Caucus. I'm surprised because it looks like he's changing. And I'm not surprised because it looks like he remains committed to his principles.
Santorum might be more than a fleeting Iowa phenomenon because he may have finally found his Rosetta Stone—that is, a code for effective conservative communication.
Santorum's strategy of focusing on a top-three finish in Iowa has paid off. Two decades ago, he won his first congressional race in the Pittsburgh suburbs in 1990 against entrenched Democrat Doug Walgren in the same shocking fashion by flying under the radar, with retail door-to-door politics and replacing his shoe leather several times. But he got crushed in 2006 when running for re-election to the U.S. Senate. He was overwhelmed by the anti-war, anti-Republican tsunami. Anecdotally, I know that Santorum also had a big problem with conservative Christian women because he supported liberal U.S. Senator Arlen Specter over conservative challenger Pat Toomey in 2004 and because they thought he was arrogant and combative. So, I'm surprised that Santorum did so well in Iowa with evangelical Christians and women, capturing both categories of caucus goers with 32 percent and 27 percent, respectively, according to entrance polls conducted by Edison Research. It appears that Santorum's campaign rhetoric is changing; it looks like he's polishing his rough edges.
Santorum signaled a change of heart in a 2009 speech at the Conservative Political Action Conference. I wrote about that in a piece titled "Rush and Rick," saying, "When Santorum encouraged the CPAC crowd to learn to appeal to the heart as well as the head, I was quietly cheering for him and hoping for a Santorum comeback. If he does come back, I think he'll be a different man—a politician who will seek to appeal to hearts as well as minds."
Santorum has made a political return and it appears that he's a changed man on the campaign trail.
But it also appears that Santorum hasn't backed down from his principles. I'm not surprised by this. He's still staunchly pro-life, in favor of entitlement reform, and concerned by the threat from Iran and radical Islam. Heading to New Hampshire and beyond, Santorum has a fund-raising challenge. He will also be challenged—to quote from Scripture—to "speak the truth in love" (Ephesians 4:15). He'll have to strike a rhetorical balance by addressing his signature tough issues from a position of principle in an emotionally appealing way.
The Edison Research poll indicates that Santorum may have found the conservative Rosetta Stone of political communication. If he has, and if he can raise money, he may be unstoppable.
Lee Wishing will be a participant in an April 19-20 conference hosted by The Center for Vision & Values at Grove City College on "The Challenge 2012: The Divided Conservative Mind."