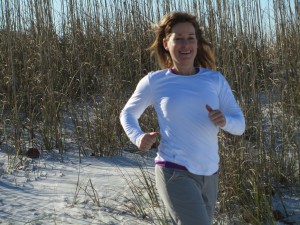 I like to think of myself as a low-key, even-tempered, patient woman.  I also like to think of myself as a fast runner.  Unfortunately, neither of those statements is actually true.
First, we'll address the issue of my athletic prowess.  I have run several races, including the following distances: 5K, 8K, 10K, half-marathon, and 25K trail race.  I spend a lot of time training for the races.  However, I generally finish at the bottom half of my age group.  Obviously, I'm clearly not "in it to win it."  Why on earth do I enter the races?  Cool shirts?  Maybe.  Camaraderie? Certainly.  Insanity? The trail race would lead me to say "Yes!"
If we take a step back and review my first "rosy-colored glasses" self portrait, the connection begins to take shape.  I am ill-tempered and impatient, particularly with my minions, also known as my children.  I'm one of those "homeschooling moms" who spends many, many, many hours (three times in honor of the Trinity) with my darling offspring.  They are brilliant children with unparalleled skills in work-avoidance.  True grammarians, fluent in bicker-ese and word play, they make their English Major Mama proud.  Sometimes, though, I lose patience with so much togetherness, and I need to run away.  So, I do.
And where do I run?  Around the neighborhood, mostly.  I'm not a headphone-wearing runner, though.  I'm a social runner.  I like to talk, or at least listen, to my running partner.  I run with my husband or my daughter or my girlfriends.  Depending upon which partner I have on a given day, I may or may not be physically able to chat—a certain husband runs too fast, so he gets to do all the talking.  On the days none of my partners are available, I still chat.  However, this conversation is the one that benefits the most people.  When I'm running alone, I pray.  When I was training for the 25K, I had several 2 hour training runs.  I said full rosaries with Joyous, Luminous, Sorrowful, and Glorious Mysteries on those days.  I'd ask my friends for prayer intentions to take along on those runs.  Praying for them helped me keep going when I wanted to quit or cry or just sit down.
A month before my 40th birthday, I ran the Hartford Half Marathon.  It was sort of a bucket list item.  My best friend ran with me.  We promised to stick together to the end.  We conquered 13.1 miles together.  Aside from the finish, the most memorable part of that race for me was around mile 10 or 11 when we were starting to feel worn out.  We passed the Cathedral of St. Joseph.  I prayed, hard, that we would have the stamina to finish strong.  I felt—really physically felt—the Holy Spirit come over me and carry me for the next quarter mile.  My skin tingled a bit and I knew God was with us in a substantial way.  When we crossed the finish line, we could say the words of St. Paul in 2 Timothy, verse 7, "I have competed well; I have finished the race; I have kept the faith."
Though I will never be a fast runner, I train hard and do my best with each event.  When I register for a race, I know I'll get a shirt and an experience.  But the best part of registering for an event is knowing that I must train and dedicate myself to work toward that goal—making good choices in what I eat, when I run, and how I treat my body.  I also know that if I'm training for a race, I'll get those extra quiet hours I need to put myself into God's presence, submitting to his will, trusting the Spirit's guidance, and preparing my spirit for eternity.  Though I'm still not patient, even-tempered, or a speedy runner, my hours spent running have taught me that God is in charge, and he's the best running partner, both in life and on the race course.