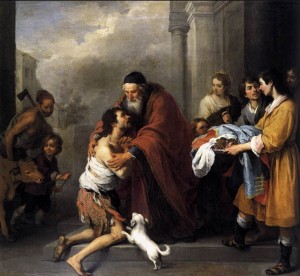 I always cringe a little when I hear people of various Protestant denominations say they belong to a "Bible-based" church and that, as a Catholic, I don't.
They aren't right, of course. Unfortunately, they aren't completely wrong, either, when they imply that, generally, Catholics don't "know our Bible" the way many of them do.
I attended a Catholic grade school and a Catholic high school. After years of religion classes, receiving the sacraments and attending Mass, I thought I had a strong grounding in Scripture — until I was on a team that put on a retreat when I was 18 years old. I was assigned to give a talk about the story of the prodigal son, a story I thought I knew pretty well. Then I read it several times. Suddenly, I realized there were people in the story other than the wayward son. Although I'm sure priests had mentioned them in homilies before, for the first time I thought about the story from the eyes of the father and the "good son."
And so I began to read and study Scripture — really read it and read about it — to see what else I had been missing.
Over time, I encountered words that changed my life. I found a mission.
I found it in Psalm 105, verse 4: Seek out the Lord and his might; constantly seek his face. And it was there in another one of my favorite verses, from Psalm 27: "Come," says my heart, "seek God's face." Your face, Lord, do I seek.
That has been my mission: To seek God's face.
Something has happened to me these last 34 years. I don't really have just a religion. I have a relationship — with Christ. It's what we all are called to have. We aren't called just to show up at church every Sunday or sing the right songs on key. We aren't called just to follow a set of rules. We aren't called just to treat people well or give a certain percent of our paycheck to charity or spend a certain amount of time in daily prayer. All of those things flow out of the relationship.
We were made to love God. And you can't love someone you don't know. In exploring my mission further, I found this in the Gospel of John:
Jesus said to him, "I am the way and the truth and the life. No one comes to the Father except through Me. If you know Me, then you will also know My Father. From now on you do know Him and have seen Him."
As you seek God's face, you find it in Jesus. And as you get to know Jesus, you find his face everywhere you look. Yes, in those you love. Also in the person next to you at Mass and your co-workers, and the girl at the convenience store, the guy who changes your oil, the person who cut you off in traffic, the telemarketer who keeps calling you, the construction workers on the bridge.
And in little babies. Especially little babies. I was reminded of that July 31, when Lukas Adam Seiffert was born. He's my second grandson, and immediately he entered a world filled with overwhelming happiness. I looked at him in my arms and whispered, "I love you, Jesus."
When is the last time you told Jesus you love Him?
It's what we're supposed to be able to say to anyone with whom we have a personal relationship, you know. Think of someone with whom you have an intimately close friendship, someone who has heard words from the depths of your heart and who will quickly race to your side whenever you need someone. Should you not express your love for someone with that place in your life?
Technically, I might be called a Christian if I merely expressed a belief that Jesus is the Son of God, one of three persons in the Trinity, and that He saved me by dying for my sins. I could hold all of that in my mind. And culturally, I might be allowed to call myself Catholic if I showed up at weekly Mass, prayed a rosary regularly, said grace before meals, abstained from eating meat on Lenten Fridays.
But if I don't have that personal relationship, if my life isn't changed …
The moment will come when, after we pass from this world, we will encounter the fiery love of Christ. We will look Jesus in the eyes. And He will say, "Do you love Me? Did you know Me? Did you seek My face?"
How will you answer?