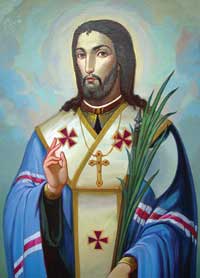 St. Josaphat Kuncevyc.  Martyr, born in the little town of Volodymyr in Lithuania (Volyn) in 1580 or — according to some writers — 1584; died at Vitebsk, Russia, 12 November, 1623.
At the age of twenty-four (1604) he entered the Basilian monastery of the Trinity at Vilna. The fame of his virtues rapidly spread, and distinguished people began to visit him. Josaphat became a priest in 1609, and on 12 November, 1617 he was reluctantly consecrated Bishop of Vitebsk, with right of succession to the Archbishopric of Polotsk. He became archbishop in 1618.
While each succeeding year saw fresh evidence of his fruitful labors, it also witnessed the steady growth of the hatred of the schismatic party. Finally on 12 November, 1623, an axe-stroke and a bullet brought Josaphat his martyr's crown.
After numerous miracles had occurred, a commission was appointed by Urban VIII in 1628 to inquire into the cause of Josaphat, and examined on oath 116 witnesses. Although five years had elapsed since Josaphat's death, his body was still incorrupt. In 1637 a second commission investigated the life of the martyr, and in 1643 — twenty years after his death — Josaphat was beatified. His canonization took place in 1867.
Source: Catholic Encyclopedia