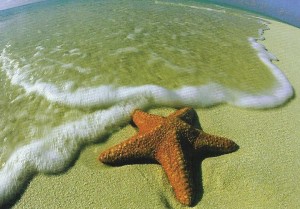 Imagine yourself standing on a beautiful beach. You're near the spot where the ocean tide rolls up to meet the sand. Your back is to the water, your face to all the beach activity.
It's a bright, sunny day, the kind that makes you feel glad to be alive.
People are soaking in the warm rays; the smell of tanning solution wafting with a pleasant fragrance. There is laughter and music. Children are making sand castles. Gulls are squawking as they swoop from the light-blue sky.
You close your eyes and feel the sand, soft and wet, beneath your feet. The water rushes in and reaches up to your ankles. You feel a little sand swept from under your toes and you smile. Of all the places in the world, this one feels perfect right now. Peaceful. Happy. Nothing about the scene ever should change or end.
And then, delivering a complete shock to your world …
The Wave hits. A huge one. You didn't hear it. With your back to the ocean, you didn't see it. The incoming tides had been there, eroding sand a little from time to time, but nothing of this magnitude. No one had warned you.
The Wave knocks you over, face to the ground. You're completely submerged and gasping for a time that seems to last forever. You try to scream for help, but water fills your mouth. You wonder what is taking someone, anyone, so long to rescue you.
You are confused. Afraid. Angry — at yourself, at the Wave, at all those people on the beach. As you try to get your bearings, move to your knees, slowly stand up — another Wave hits. Then another.
The death of a loved one. A diagnosis of cancer. The loss of a job. The onset of depression or diabetes or MS or some other chronic illness. Marital separation or divorce. A major car or house repair requiring money that isn't available. A serious illness for one of your children.
Overwhelming temptation. Sin. Guilt. Remorse. Regret.
No one gets to live their entire life on a sunny beach that remains the perfect day of vacation. The Wave — in some form or magnitude — spares no one and in fact makes several appearances during a lifetime. So often, it takes us completely unaware.
Well, if we can't avoid the Wave, should we take a defeatist attitude and let it drown us when the time comes? Should we give in and give up? Of course the answer to that is "no." But the solution will take some effort and vigilance and help.
For one thing, be aware that it can happen. Don't live in fear of the Wave, but don't be completely caught off-guard. Look back over your shoulder now and then, especially when you feel conditions changing. Know some of the "triggers" in your life — people or events that tend to foreshadow and even lead to danger.
When you're standing on life's sunny beach, accumulate family and friends — and a church community — who will stand close enough to reach in troublesome times. It doesn't have to be a large group of people; just don't live isolated, don't stand alone in the ocean's tide and then expect people to help rescue you from a great distance. And when they do come to your aid, don't fight them and try to survive the Wave by yourself.
Let people help you. Believe that they can.
Finally, let God help you. Only He can quell the Wave, for one thing. And while the warm sun is shining, make an effort to get to know Him more completely. Develop a deeper faith and prayer life. You will be surprised, then, how firmly you can stand against the worst the ocean can throw at you, stronger than you ever could have imagined.
Battling the Wave might still wear you out. You will survive, though, and you'll find yourself enjoying the sunny days on the beach more than ever.