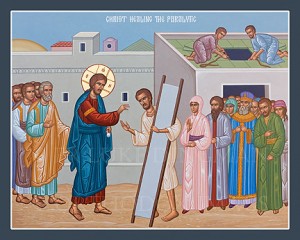 Does the Bible still have relevance? All that guidance and those stories of 2,000 years ago and longer – do they mean anything today?
They should, of course – especially the things Jesus taught. Loving God with every fiber of your being, loving your neighbor as you love yourself, forgiving countless times. Laying down your life for your friends. Having hope when all seems hopeless. Those messages instruct us about how to love the right way in relation to God.
Many of the stories provide direction about how to live and behave as well if we want to be faithful people. One of my favorites is from the second chapter of Mark's Gospel. What a scene that must have been! Jesus had just arrived in Capernaum, and so many people came to hear him talk that there was no room for more people, not even outside the front door.
That apparently broke the hearts of four guys in particular. They had a friend who was paralyzed. They believed Jesus could heal him but couldn't get close enough to ask for that miraculous favor. Undeterred by the crowd, the persistent friends lifted the paralyzed man onto the roof of the house, dug through that roof and lowered the man down to Jesus.
Clearly moved by the gesture, Jesus first forgave the man of his sins. Some of the official "teachers of the law" called Jesus a blasphemer because he dared to forgive sins. But to show his power over all things in heaven and on earth, Jesus told the man: "Get up, take your mat and go home."
And the man rose, picked up his mat and walked out of the house.
Amazed, the people praised God and exclaimed: "We have never seen anything like this!" You and I can say the same thing.
We all are called to do what those four friends did. Similar was the story about the Roman centurion whose servant was dying. The centurion asked Jesus to heal the servant. Jesus remarked about the man's great faith. When the centurion returned to his home, he found the servant healed.
We are called to care so much for the people in our lives that we bring them and their needs to Jesus. And we are told that if we have complete and pure faith, well …
At the Last Supper, Jesus told his apostles:
Amen, amen, I say to you, whoever believes in me will do the works that I do, and will do greater ones than these, because I am going to the Father. And whatever you ask in my name, I will do, so that the Father may be glorified in the Son. If you ask anything of me in my name, I will do it" (John 14:12-14).
When I think of the things God has called me to do in life, intercessory prayer is among the most important. As a Secular Carmelite in formation, part of my vocation will be to have an apostolate, which is defined as a "religious or evangelistic activity or works." Because of my experience living with and battling depression, I feel called to help people who suffer with that disease as well as those who love them and care for them, and to work to help erase the stigma of mental illness.
More pervasive than that, though, is my daily and even hourly call to pray for anyone who asks. When someone shares with me a prayer need, they can rest assured I will bring that need to God.
Each day, I lift up people who are hurting, scared, worried, struggling. You can find most of them on the "Let Us Pray" area of my website. If you look there right now, in April 2015, and you will see there are many people who are fighting mental illness, especially depression. There is a 94-year-old woman who had surgery recently to repair a broken hip. People dealing with cancer. A relatively young woman recovering from a stroke. A woman just getting used to living with diabetes.
They or someone who loves them asked me to talk to God about those battles and their needs. So I do that at least once a day.
There are others I pray for hourly, people especially close to me or in truly urgent need. A woman in her 40s with a high-risk pregnancy. Friends in the thick of deeply depressive episodes. A priest friend who is traveling in a sometimes dangerous part of the world. A friend who is in a difficult job situation and needs a different one. A family whose lives have been disrupted frequently by mental illness. A friend and her children who are separated from the Church and don't feel their faith puts them in a place to return. And of course my wife, my children, my parents, my sisters and their families, my in-laws, my parish community and pastor, my longtime and closest friends …
I don't just pray for them. I beg for them. I thank God for them and with them. I cry for them. At times, I silently scream to God for them. When they hurt, I find I am hurting with them.
And I believe.
"Our God is an answering God," Christian author Lee Ann Rubsam said.
That is perhaps the most important requirement for intercessory prayer. You have to believe. Not just believe that there is a God who hears your prayers. Believe that he not only will answer your prayers, when he deems it the appropriate time, but that he can grant exactly what you desire. God can do anything. To be a true intercessor, you must have complete certainty that God can do anything, that nothing is out of his reach or beyond his capability.
"People describe intercession by saying, 'It is putting yourself in someone else's place.' That is not true!" said writer Oswald Chambers. "Intercession is putting yourself in God's place; it is having his mind and his perspective."
Go ahead. Climb on top of the house, dig through the roof, and lower your friends and loved ones to Jesus. Show that kind of amazing faith. Intercede for people.
Believe. That kind of faith means as much today as it did that day in Capernaum.