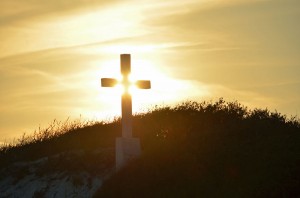 In his remarkably profound book, Lift Up You Heart, Bishop Fulton Sheen said,
"The Cross is the most inescapable reality of life. If we will not accept it outside of ourselves, to pardon us and to heal, then we will have it inside, as frustration and despair."
The life changing reality of Calvary has been that "most inescapable reality" for millions of people. I am included in their ranks.
Wretches like me
For wretches like me, it was the Cross that brought into sharpest focus the enormity of our sin and the enormity of Divine love. God offered his only Son so that a fallen humanity might be reconciled to Him. Such love is beyond my capacity to understand!
"For our sake he made him to be sin who did not know sin, so that we might become the righteousness of God in him." (2Corinthians 5.21)
For wretches like me, the Cross provided a clear delineation between the holiness of God and our own wretchedness. There was a great chasm between us and the source of all Goodness, which is God. The chasm that separated us could only be bridged by the Cross of Christ.
Saint Paul tells us in his letter to the Romans:
"For Christ, while we were still helpless, yet died at the appointed time died for the ungodly. But God proved his love for us in that while we were still sinners Christ died for us."  (Romans 5. 6 and 8)
Wretches like me crossed the chasm through simple faith that what happened to Jesus at Golgotha – that terrible place of crucifixion – somehow paid a ransom to make wretches like me acceptable to a holy God.
We may not have known how it happened; all that many of us knew was that it did happen. All we knew was that by confessing our wretchedness (sin) and believing that God's only Son would forgive us, our wretchedness fell away. The great and terrible chasm between us and the source of all Goodness was bridged by the Cross! We were made fit through Jesus Christ's sacrifice, to meet God. Not only that, we were adopted as children of God.
Adoption by God
The notion of being adopted by God is not a silly fantasy that we made up in our minds. The Bible assured us of our adoption:
The Apostle John tells us:
"But to those who did accept him [Jesus Christ] he gave power to become children of God, to those who believe in his name, who were born not by natural generation nor by human choice nor by a man's decision but of God."
Remember, these words about adoption into the family of God came to us from the disciple who Christ entrusted the care of his Mother, as he hung dying on the Cross! (John 19.26-27).
Paul expanded on this adoption:
"For those who are led by the Spirit of God are children of God. For you did not receive a spirit of slavery to fall back into fear, but you received a spirit of adoption, through which we cry, "Abba Father!" The Spirit itself bears witness with our spirit that we are children of God, and if children, then heirs, heirs of God and joint heirs with Christ, if only we suffer with him so that we may also be glorified with him. I consider that the sufferings of this present time are as nothing compared with the glory to be revealed for us."" (Romans 8.14-18)
Sufferings of this present time
I have had multiple sclerosis for over thirty years. Only my left arm
remains unimpaired by disease. There is great reassurance for me to know that my present sufferings will pale in comparison to the glory that God will reveal to me.  Outwardly I am wasting away; inwardly I am being renewed daily (see 2Corinthians 4.16-17). Like the fourth figure in the fiery furnace with Shadrach, Meschach and Abednego, Christ is with me in the fire of MS. Make no mistake about it: He is with me.
The slow destruction of my physical body has made me cling tighter to the "inescapable reality of the Cross."  Like Job, I can rest in the knowledge that my Redeemer lives. Even though my flesh is being destroyed, "I shall see God, whom I shall see for myself, and my eyes shall behold, and not another. How my heart yearns within me." (Job 19.26-27.)