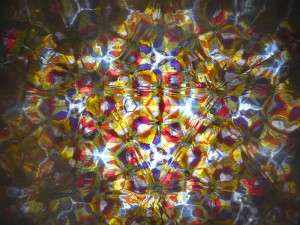 The GOP presidential primary, which I continue to compare to a colorful, shape-shifting kaleidoscope, is now in overdrive, revolving at a blistering speed, with the latest Gallup poll showing Texas governor Rick Perry rocketing past all other Republican contenders.
According to Gallup's Jeffrey M. Jones, 29 percent of Republicans and Republican-leaning independents nationwide say they are most likely to support Perry, with Mitt Romney next at 17 percent. "Rick Perry has emerged as rank-and-file Republicans' current favorite for their party's 2012 presidential nomination," says Jones.
There is even more good news in this poll for Perry. Congressman Ron Paul (R-TX) and congresswoman Michele Bachmann (R-MN), respectively in third and fourth place in the poll, capture 23 percent of the vote. Throw in Herman Cain's 4 percent, and you have over a quarter of the GOP primary electorate who, being unlikely to shift to the more moderate Romney, are ripe for the picking by the Perry campaign if it builds momentum.
The Gallup poll was conducted August 17-21 with a random sample of 1,040 Republicans and GOP-leaning independents. Gallup says that the poll has a 95 percent confidence that the maximum margin of sampling error is plus or minus 4 percent.
Perry and Romney were essentially tied in late July. Now the race is turned upside down. As expected, conservative Republicans support Perry, "but liberal and moderate Republicans support the two about equally," says Jones.
In my last article, I speculated that Sarah Palin's entry into the race might, along with the presence on the ballot of Bachmann and Paul, dilute some of Perry's support vis-à-vis Romney. When Gallup factored in both Palin and former New York mayor Rudy Giuliani, each received about 10 percent of the vote. Still, Perry maintained "a significant lead over Romney, 25 percent to 14 percent, on this measure." There's nothing like a little hard polling data to kill the fun of free floating political speculation. The numbers, while only a snapshot in time, do not lie — at least when Gallup does the polling.
Writing in the National Journal, respected left-of-center political analyst Ronald Brownstein noted that Sarah Palin's appeal was generally limited to voters without college degrees. He parses the Gallup data, making all the usual disclaimers about how early it still is in the race, but concludes: "Perry's ability in this survey to outpoll both Bachmann among the devout and Romney among the well-educated shows the Texas governor's opportunity to build a broader coalition than either of his principal rivals." Perry has the "ability to reach across class lines," unlike Palin, claims Brownstein.
"Perry's official entry has shaken up the Republican race, making him the new leader for the party's nomination," says Gallup's Jeffrey Jones. "Gallup also finds Perry generating strong positive intensity among Republicans familiar with him, suggesting he has a strong initial base with potential to grow, given his below-average recognition."
Perry will have to show up and play the game, but his polling numbers are nothing if not astonishing given his short time as a presidential candidate. Moreover, he seems to be bridging the social and economic streams in the Republican base. He recently signed on to the strong pro-life pledge offered by the Susan B. Anthony List, a leading right-to-life organization, to all presidential candidates. Romney did not.
If Perry wins the primary, will he go the distance against President Obama in the general election?
Al Sikes, former chairman of the Federal Communications Commission, successful businessman and former political compatriot of mine from our Missouri days, believes that Perry, a very strong personality and commanding figure, may benefit from the same phenomenon that Rudy Giuliani did when even liberal New Yorkers voted for him to bring some kind of order to a city financially and socially out of control. Sikes, who lived in New York for many years as president of Hearst Interactive Media, says simply, "New Yorkers were fed up."
"I do think in perilous times people look for a strong leader and particularly after a weak one," says Sikes.
It is fair to say that many, if not most, Americans, are fed up with Washington. Perry is betting that they will emulate Davy Crockett who, after his Jacksonian opponents derailed his re-election bid for Congress, exclaimed, "You can go to hell — I'm going to Texas."