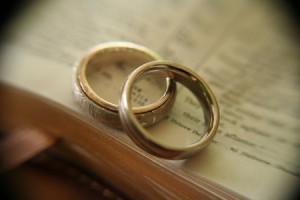 No matter how many times I attend Mass, I still rarely attend with the presence of mind to realize I am attending a marriage ceremony.  This is the most central and important aspect of my Christian life, and it just doesn't occur to me that this is a wedding taking place.
More specifically, the Mass is the marriage of the Lamb, Christ, the bridegroom, wedding His bride, the Church.
I became very interested in this concept a few years ago while investigating specific Scripture options available to couples for their Nuptial Mass. Every couple who chooses to be married in the Catholic Church has to choose one Old Testament, one Psalm, one New Testament, and one Gospel reading to be read during their marriage ceremony.
My question was why did the Church choose all of these as options?  I thought it might be interesting to do a television/radio series that discussed each of these Scripture options and learn why the Church chose them and how they pertain to marriage between two human beings.  Fr. Edward Connolly (my co-host of Road to Cana) agreed it would be an interesting project.
As we tried to come up with a name for the series, it became clearly obvious to us both that it should be called "Marriage of the Lamb" because every Christian marriage is called to be a witness to the marriage of Christ and His bride, the Church.  Each of the Scripture reading options point to marriage as it was designed by God to be lived out, based on the central act of the love of Christ dying on the Cross.
I think most Christians get this idea of Jesus dying on the Cross as our Saviour and Redeemer.  But when you look at that crucifix, do you ever see a bridegroom?  It's not exactly the image we care to depict when it comes to marriage.  Yet, that's exactly what every Christian marriage is meant to be; a bridegroom on the cross and a bride joined in union to her husband through sacrificial love.
Think about some of the beautiful imagery within the Mass that reveals the wedding ceremony taking place. Jesus is the source of life. Jesus establishes a covenant that is new and everlasting.  The Church is His bride.  The moment of consecration is the wedding and consummation. The reception of the food of Holy Communion which we consume unites us to Christ.  Jesus establishes a covenant that is new and everlasting with His Bride, the Church, which is His mystical body.
This is why a priest is very much a husband and why he is called father.  It's also why a woman will never be a Catholic priest.  A husband is a male, a wife is a female.  The priest represents Christ, the husband.  The laity represent the Church, the wife.
Traditionally, the role of a husband is to be food and drink for his wife. He is provider of the material food and drink that nourishes the physical body, as well as the provider of the spiritual food to nourish the soul of his family by being the spiritual leader. He is also provider of the source of life that makes his wife a mother.  He is head of the house because he is the source of life in every way. He must lay down his life daily in love of his wife and family. His wife depends on him for nourishment by the security of his love and devotion. She is in submission to him in that she supports and helps him in this mission of sacrificial love.
These beautiful images are strongly present to us at every Mass and provide an example of love God wishes to share with and through all of us as individual members of the Bride, the Church, as well as in our vocations.  And in certain ways, the love of Christ as bridegroom applies to both men and women in the marriage.
As human beings, however, we are prone to sin and are hopelessly weak and flawed. All too often our marriages are far from an example of Christ's love for His Church.  Marriage can be much more difficult to live out than we assumed prior to marriage when love was full of enthusiasm and romance, and you seem invincible as a couple.  You are not married directly to Jesus; you are married to another sinner.
We can't allow the example of marriage which Jesus left us to discourage or frustrate us. But we mustn't think it impossible or unattainable. Difficult as it may be, marriage to another person can be lived out for a lifetime, and can bear witness to love of Christ for His Church. That witness is sacrificial love; putting the other first, accepting hardships, and ultimately the commitment to being united as one.
It's an impossible task for human beings, but totally possible by the grace of God present to both individuals in marriage, as well as the marriage itself, offering supernatural strength where human strength is wanting or inadequate.  As Jesus is centralized and prioritized in the marriage, and both persons mutually work at it, living out the marriage commitment is more realistic and desired, and certainly more joy-filled and blessed.
No one gets it perfectly right, thus no one has the perfect marriage or is the perfect spouse.  We all fail our spouse and our God at times. But we do have an example to observe, consider, and emulate every time we participate at the Holy Sacrifice of the Mass.  It's worth the effort to consider the marriage ceremony we are fortunate to witness and participate in at every Mass. It takes two to love like this for a lifetime, but it takes a Christ-centered personal life to make it even remotely possible to follow the example of the Lamb.
Please check out this Marriage Of The Lamb series, and share it with others.  Hopefully, it will help you deepen your understanding of Christian marriage.