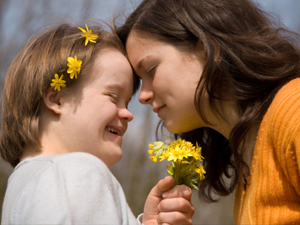 In every country, at this very moment, women who have become pregnant — either because of decisions they made or as victims of assault through no fault of their own — are faced with making the choice of life or death for their child. Some of these women are financially stable, some are in financial destitution. While most have perfectly healthy babies in their wombs, others are carrying unborn babies with varying levels of disabilities. Where these women go for comfort and advice can make all the difference, not only for their lives, but for the lives of those unborn children as well.
If they speak with a friend or family member who supports abortion, or end up in an abortion office looking for help, they're sure to hear any number of lies told to convince women that it is okay, or even that they have a "right," to kill their unborn children: "It's a safe procedure with no side effects;" "You'll never get a good education or job if you don't abort;" "You'll be poor;" "You'll never find a husband;" "It's better to abort than have a child with a disability; "It can't feel pain;" "It's not really human anyway."
But there are other offices women can go to filled with compassionate people focused on providing genuine care and support to expecting mothers no matter the circumstances surrounding their pregnancy — people who believe in the dignity and sacredness of all human life. Crisis pregnancy centers (CPCs) help women see past the pro-abortion propaganda and offer a variety of help and services such as pregnancy testing, sonograms, financial assistance, child-rearing resources and adoption referrals. These centers are currently under attack in the United States from anti-life legislators and organizations who claim the moniker "pro-choice" but actively seek to limit the choices of pregnant women in need.
CPCs face challenges around the world as well. For the past week I've been in Argentina (I return to the U.S. on Monday) for the 5th Latin American Congress of Crisis Pregnancy Centers. Over 200 people from a dozen countries — including 12 priests, 10 monks and 10 nuns — attended the Congress at a retreat house about 50 miles from Buenos Aires. These pro-life servants offer support to women throughout the region that they could not find elsewhere.
I was invited to speak at the Congress about the work HLI does through our international pro-life apostolate. HLI's regional director, Mario Rojas, joined me as a guest speaker. Attendees also heard from HLI Argentina Director Dr. Oscar Botta, and HLI Mexico's Jorge Serrano, whose organization established the crisis pregnancy center network in Latin America.
After the Congress concluded, Mario and I flew to Tucumán, Argentina to meet with Archbishop Alfredo Zecca to discuss HLI's regional REDESSVIDA conference next year. Our REDESSVIDA program provides pro-life resources and training to Catholic seminarians and clergy throughout Latin America. The Latin American bishops have been very supportive of HLI's efforts to work with the Church on defending life in their countries. Mario and I also addressed a group of 350 young people, and spoke with about 200 seminarians at Seminario de Tucumán. We are scheduled to meet with groups of congressmen, doctors, lawyers and other pro-life leaders before leaving Tucumán.
There's much that could be said about HLI's work in Latin America — so much that it is the subject of our next documentary! Stay tuned for more information about this film which is scheduled to debut on EWTN early 2014.
Once I return to the U.S., I'm off to another conference: the HLI-sponsored Life Dignity and Disability: A Faith that Welcomes in Omaha, Nebraska, October 18-19. The Nebraska Bishops' Pro-Life Office and the Archdiocese of Omaha Respect Life Apostolate are partnering with HLI to shed light on the denial of basic human dignity for the disabled and how our Lord calls us to care for the suffering, and even to embrace suffering.
As society continues down a path of self-destruction, human life both inside and outside of the womb faces more and greater threats — especially those with physical or mental disabilities.
Bishop James Conley will give the keynote address, and attendees will learn from a number of educational and inspirational presentations such as: "Journey to Love: Responding to a Poor Prenatal Diagnosis" (Patty Franke, Journey to Love Ministry); "Saint Germain Cousin, From Suffering to Sacrifice" (Omar Gutiérrez, manager of the Office of Missions & Justice, Archdiocese of Omaha); "Why Does God Will that We Suffer Disabilities?" (Peter Kreeft, author and professor at Boston College); "Joyful Suffering with the Missionaries of the Poor" (Joseph Pearce, author and editor of St. Austin Review); and "Human Dignity and Appropriate End-of-Life Care" (Sister Terese Auer, John Paul II the Great Catholic High School).
Regardless of the situation or circumstance, every life is precious in the eyes of God. Disabled persons are not a burden, they are a gift — as are all of God's children. There's no way to measure what impact that child will have on the individual lives he or she touches, no matter how short a time on this earth. Our Lord tests our will, and our faith, not to punish us or cause grief, but to strengthen our trust and love in Him.
Please pray for the success of our mission trip in Argentina, for our conference in Nebraska and for HLI's pro-life missionaries around the world and those they serve. God bless you.
This article is courtesy of Human Life International.