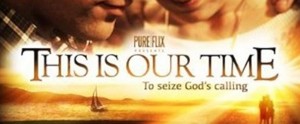 Graduation from college is a transition from working towards a goal to accomplishing it. Some are ready to save the world while others simply want to make their mark in it, but either way, it is the threshold of new possibilities.
Inevitably however, within any group of graduates, time brings surprises both good and bad.   The movie, This is Our Time, follows life after the graduation of five young adult friends.  All five are Christians with a desire to serve God, although they begin on very different road. Two marry each other and go to India to work in a leper colony, while two others find jobs in corporate America. The fifth, an English graduate, is stuck in first gear, working at a restaurant after getting wait-listed for graduate school.  Initially, everyone's course seems predictable—but then things change quickly including an unexpected tragedy that occurs among them.
For anyone living a Christian life, such events are often the ultimate turning point in faith. Following Jesus, on the surface, seems to guarantee a certain amount of protection against hardships.  When suffering comes, it's tempting to feel betrayed. Why would following God's call lead to pain?
It is a situation the characters in This is Our Time face as they learn that God can take those times and lead you into a deeper relationship with him.  The message is that our time is really God's time.   The movie was produced by Pure Flix, a Christian movie studio seeking to influence culture to become more Christ-centered.
"I wanted to tell a story that would resonate with young people just stepping out into the world to make their mark that would help them see that no matter the circumstances they face, God is always with them, loving them, guiding them," said Lisa Arnold, the film's writer, director and co-producer. "What they all come to learn is that it never really was their time," Arnold said. "It always was, always is, God's time."
This is Our Time has received The Dove Foundation's Family Seal of Approval (earning the highest rating of five Doves) and is recommended for all ages.  Coinciding with the movie's DVD release, Pure Flix is teaming with Family Christian Stores and other Christian retailers to award eight $2,500 college scholarships through registrations submitted through FamilyChristian.com and other websites representing more than 2,000 retail outlets nationwide. Participation eligibility and rules can be found at www.thisisourtimemovie.com.