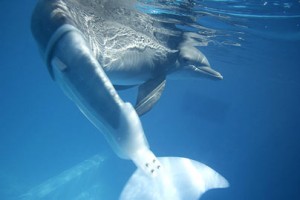 The family-friendly movie Dolphin Tale is one of the best films I have seen in a long time.  I laughed, I cried, and I didn't want it to end.  The story centers on Winter (a real dolphin who plays herself), who was caught in a crab trap on the Florida coast and rescued by young Sawyer (Nathan Gamble).  Winter is taken to a marine hospital where her tail is amputated due to infection.  The injured dolphin struggles to survive, buoyed by daily visits from Sawyer, with whom she has a special connection.  Winter's prospects look bleak until Sawyer meets a prosthetics doctor and realizes that an artificial tail might help his newfound friend swim normally again.
One especially moving scene involves a handicapped child who traveled from Alabama to visit Winter.   As she emerges from her car, we notice that the girl is in a wheelchair and has an artificial leg.  When she sees the dolphin's prosthetic tail, the child exclaims with delight, "Winter is just like me!"  The closing credits expand on this theme, showing actual footage of children with various handicaps playing with Winter in the pool.  The joy on their faces instantly put tears on mine.
A subplot of the movie involves Sawyer's cousin, Kyle (Austin Stowell), who joins the Army but returns home too soon after being injured in battle.  Winter plays a big part in his recovery, so I was interested to learn that Winter helps not just handicapped children, but also American soldiers who are injured in battle.  These brave heroes learn to adjust to their prosthetics and receive inspiration from a dolphin who is a lot like them.  
Winter's amazing tale has inspired Semper-Fi, a non-profit organization, to organize a contest for military families to win a trip to the dolphin's home in Clearwater, Florida, for a "Day of Inspiration."  Semper-Fi provides financial assistance and quality of life solutions for Marines (and those who serve in support of them) and their families who are injured in combat training or operations, or who face life threatening illness or injury.  To enter, families must have one member who has served or is currently serving in the US armed forces and who has a child who is facing, or has overcome, a significant and debilitating illness or disease.  The contest runs through September 30th, and details can be found at http://www.semperfifund.org/inspiration.
 Dolphin Tale is released in theaters on Friday, September 23rd.  The film is rated PG for mild thematic elements and can be seen in 3-D or traditional format.