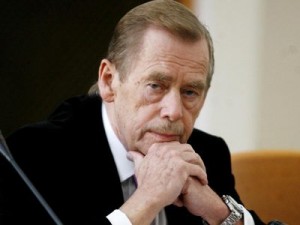 Vaclav Havel is dead. Among other forces and powers, he is among the seven individuals most responsible for peacefully ending the Cold War; the great liberators who brought freedom and democracy. They are Ronald Reagan, Pope John Paul II, Mikhail Gorbachev, Boris Yeltsin, Margaret Thatcher, Lech Walesa, and Havel.
With Havel's death, a majority of these seven are now gone, giving new voice and added meaning to what Chesterton deemed the democracy of the dead.
All waged battle against what Reagan inspiringly called the "Evil Empire," a brute creation cobbled out of a diabolical ideology that generated the deaths of over 100 million in the last century. At the core of that evil was what Mikhail Gorbachev characterized as a "war on religion," which, among other forms of malevolence, spawned what Vaclav Havel described as "the communist culture of the lie." As they engaged the beast, John Paul II admonished all to "Be not afraid."
Vaclav Havel was unafraid. He and his Charter 77 movement were courageous, willing to go to jail rather than take orders from the devils who installed themselves as dictators from Budapest to Bucharest, from Warsaw to Prague.
As if all of this, unfolding here on earth a short time ago, was not profound enough, I'm suddenly struck at the profundity of Havel passing into the next world alongside Christopher Hitchens, and both shortly before Christmas.
Peter Robinson, who knows about the collapse of communism, having written Ronald Reagan's Brandenburg Gate speech, interviewed Hitchens for his PBS show "Uncommon Knowledge." Robinson was troubled by Hitchens' willingness to concede credit to Havel for the collapse but none to Reagan. He took on Hitchens at that moment, not letting him get away with the slight against Reagan. I wish Vaclav Havel himself would have been there to set Hitchens straight. Havel said of Reagan, ironically at Reagan's death: "He was a man with firm positions, with which he undoubtedly contributed to the fall of communism."
Havel had a lot to teach to Hitchens. Hitchens would have listened to Havel. 
Indeed, of all people on this planet who God might have chosen to counsel a stunned Hitchens as he sits outside the Pearly Gates shaken in awed confusion, Havel would have been perfect, the one intellectual to merit Hitchens' intellect and respect. If Hitchens' un-merry band of atheists will forgive me, the religious romantic in me can't help but indulge an image of Hitchens sitting there, hunched over, head in hands, only to look up at a smiling Havel and saying, "Fancy that I'd see you here. You just getting here?"
 Vaclav Havel was not just a man of politics and intellect, but a man of the arts, theater, literature—and, yes, of God. He exhorted the West and the wider post-modern world to seek "transcendence." Hitchens might have figured God "the ultimate totalitarian," but Havel saw God as the solution to totalitarianism, as tyranny's antidote, as the fountainhead of freedom. This was something Havel deeply admired about America and its roots—its fusion of faith and freedom and the recognition that the latter cannot genuinely exist without the former. "The Declaration of Independence states that the Creator gave man the right to liberty," Havel concluded in his July 4, 1994 lecture at Philadelphia's Independence Hall, home of that very sentiment. "It seems man can realize that liberty only if he does not forget the One who endowed him with it."
Vaclav Havel never forgot that principle nor its Endower. Neither did any of the Cold War seven that laid waste to the Soviet beast. And it was with the power of that conviction that they tapped the ultimate force that resolved the Cold War and won the victory for freedom and good against oppression and evil.
Vaclav Havel now joins the Heavenly majority. May he rest in peace, at last reaching true transcendence.