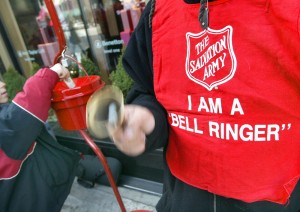 The U.S. branch of the Salvation Army has quickly distanced itself from the Salvation Army International's controversial stance on abortion as reported by WND.
"When I read [the international group's position]I was stunned," Major George Hood, chief communications officer for Salvation Army USA, told WND.
The International Social Justice Commission's position statement "does not reflect the position we've taken in the U.S. on abortion."
"When I saw the language, there was smoke coming out of both my ears," Hood said.
The Salvation Army International, based in London, approved the position statement in November 2010. It allows abortion in cases of rape, incest, if a baby is diagnosed with a fatal abnormality, or the pregnancy threatens the life of the mother.
The stronger position statement of the Salvation Army U.S.A. reads:
"The Salvation Army believes in the sanctity of all human life and considers each person to be of infinite value and each life a gift from God. Therefore, when an unwanted pregnancy occurs, The Salvation Army advises that the situation be accepted and that the pregnancy be carried to term, and offers supportive help and assistance with planning."
"The Salvation Army recognizes tragic and perplexing circumstances that require difficult decisions regarding a pregnancy. Such decisions should be made only after prayerful and thoughtful consideration, with appropriate involvement of the woman's family and pastoral, medical and other counsel. A woman in these circumstances needs acceptance, love and compassion."
In a 2007 interview with the Swiss newspaper Der Bund, Salvation Army General Shaw Clifton, then head of the international affiliate and credited with shaping their stance on abortion, summarized their position:
B: You involve yourselves with questions such as abortion. I am assuming that The Salvation Army is against it?

S.C. That's too simple. We are not as conservative as our catholic brothers and sisters. There are situations in which abortion is the lesser evil, for instance in cases of severe deformities of the foetus, [or]rape. We try to support women who find themselves in this situation and to be loyal to them, even if they make decisions that we ourselves might not have made.
When informed of the International position, Jeff Stanger, development director of the Salvation Army, Indiana Division, told WND, ""In a way, you may have done us a favor by calling attention to it. We were a bit caught off guard."
Major Hood said a process has begun to make the Salvation Army's position statement "even more tight, more anti-abortion."
The policy statement on abortion will be discussed at the next international meeting of the regional leaders in February.
This article courtesy of Turtle Bay and Beyond