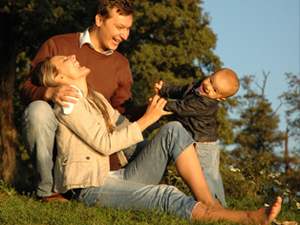 Did you ever look at your husband and wonder just what you did in your life to deserve such a man?  Does that scene in The Sound of Music, where the Captain and Maria declare their love for one another finally make sense to you?  ("I must have done something good….").  There are so many little moments in my life that make me love my husband so much, but there are a few big moments where I realized this man is a gift from God – none more powerful than his love and concern for the visible sign of our love together:  our children.
In the drive thru line at Wendy's I was getting ready to order when my cell phone rang.  It was Josh's coach.  He told me to get to the park as fast as I could; nine year old Josh had been hit in the head with a bat.  I whipped out of line, turned on my flashers and drove as fast as was reasonably safe to do back to the park.  Pat was supposed to bring Josh home after he and his teammates had eaten their lunch together.
The ambulance arrived before me and they had Josh loaded up in the back.  The EMT's were working on Josh while Pat sat beside him holding his hand.  Pat's ashen face looked even more so against the blood splattered across his shirt.  An EMT stepped out so I could pop in and see Josh, his mouth looked bad but he was calm and responsive.  I quietly asked Pat if he would prefer I ride with the ambulance.  He shook his head, "No, I need to be here."
As I stepped out the EMT pulled me aside, "Ma'am, your husband looks pretty bad.  Maybe you should ride in the ambulance."
"Sir, my husband hates the site of blood so he is likely a little queasy right now.  But he loves his son more."  He nodded and ran around to hop into the driver's seat.
I got in the van, dropped my other children off at a good friend's house and met up with them at the hospital.  In the ER Pat still looked white but he did not leave Josh's side.  When they took Josh across the hall for an x-ray, Pat told me what had happened.
A teammate was playing with a bat, and not knowing Josh was standing behind him,  took a full swing that slammed into Josh's mouth.  Parents said you could hear the sound of the bat hitting his teeth in the parking lot!  Pat was just far enough away that he had to watch the entire scene but could not stop it.  Another parent called 911 while Pat comforted his bleeding son.
Josh was blessed; the doctor said that if the bat had hit him an inch higher or lower it could have been fatal.  One tooth knocked out clean, three broken, a mouth full of stitches and a long road of dental work lay ahead.  Once we had Josh home that night Pat had a difficult time sleeping, he could not get the image out of his head – he wanted to be able to stop that bat, to save his son this pain.  He had to settle for helping his son recover.
Thanksgiving weekend three years later:
The week prior had been spent with us taking our 4 year old daughter to the ER three times and regular doctor twice.  She had a high fever, bad headache, vomiting…  and now she could not walk.  When our regular pediatrician returned, he took one look at her and told us to head straight to the children's hospital – he confirmed what we, as parents, already knew:  she was critically ill.
The doctors told us that she would be fine.  Twenty-four hours on antibiotics should take care of everything.  Two days later her fever was worse and her pain excruciating; she was not responding to medication.  Another test revealed the reason:  pneumatic strep had settled into her hip.  This was exact same illness that had taken the life of our neighbor's daughter two years before.
In the mid-night hours before her surgery Pat held her hand, brushed her matted red curls, kissed her and comforted her – even when she slugged him in her fits of agonizing pain.  I thought of how he had spent the previous weekend sleeping on the living room floor.  The only spot where MaryKate could be remotely comfortable was the couch, so Pat lay on the floor and held her hand all night long.  In her growing misery he loved her all the more, never leaving her side.
Years before when it was confirmed that our third child was a girl my conservative, "never spend a dime on anything excessive" accountant husband immediately went out and splurged on a brand new crib bedding set.  Showing me his purchase he explained, "She's a girl, Honey.  She cannot sleep on football sheets!  And look!  It comes with a matching dust ruffle!"  His enthusiasm was hilarious.  Hand me down sheets were fine for the boys, but not for his girl.  The fact that he even knew what a dust ruffle was shocked me.     Now his precious little girl was seriously ill, what if we lost her?  Was God calling him to give back what Pat so longed to keep?  Were these the last earthly moments that father and daughter would share together?
How did the man who could not even stand the thought of a doctor's office become the first in line to care for his sick or injured children? The very smell of a doctor's office could make him nauseous.  It took five years of marriage before he would give in to my request that he get a yearly physical, it took ten years to get him to a dentist!  Needles, gauze, blood tests, band-aids and that soap all doctors' and hospitals use (you know the smell) were things Pat hated with a passion.    He squirmed when I came home from giving blood at just the sight of the cotton ball and band-aid on my arm.  How did he become the man who suited up cheerfully for four deliveries and, in a more determined way, one miscarriage?
How is it that the one thing he hated most on earth became the one thing he did best?  He held me still during contractions so the anesthesiologist could administer an epidural into my spine (4 times!).   Pat watched countless IV's go into my arms/hands and cared for his own newborns, sometimes connected to tubes and IVs themselves.  The man who could not look at my blood donor bandage held his daughter down while they inserted her IV.    He took kids with misshapen bones or horrendous fevers to the local ER to spare me being exposed to icky germs.  Without saying it, he knew my job was taking care of the kids, if I was sick everything stopped – better him than me, he felt.
When serious complications from childbirth prevented me from holding our firstborn outside of nursing, Pat took over.  Within days he was a diapering expert.  Each night baby Josh nursed then fell asleep lying across daddy's chest, with his sweet head over Pat's heart – it would be years before he could fall asleep any other way!  Colicky baby Jimmy found a strong and patient shoulder to cry on, for hours on end, as soon as Pat got home from work.  Pat brought MaryKate with him everywhere he could and made sure little Joseph was getting his daddy time, too. 
Years later there is more to remind me of Pat's fatherly love than the scar on MaryKate's hip and the smile on Josh's handsome face.  Listening to Pat and Josh plan their road trip to a concert by one of their favorite Christian bands;  Jimmy's reminding Pat that they have a "date" for the 1st Atlanta Hawks game of the season; looking at the Broadway shows coming to the Fox this season so we can take MaryKate to see one; disciplining the 5-year-old who thought he could fly and ended up jumping off his top bunk in an attempt to grab the blanket strewn over the ceiling fan…. he did not fly, but he did break the ceiling fan.  This is his vocation.
As Father's Day approaches I realize that these relationships between this father and his sons and daughter were forged in the fire of sacrificial love and suffering.  Pat is there to share in the victories and walk with them in defeat, he does not have to be their friend – he is their father.  He gets in line for confession with them and he leads us in daily prayer; he teaches us all, through word and deed, that forgiveness and kindness are embedded parts of his character.  Integrity is something he lives and expects from all his children.
How did Pat get this way?  I need look no further than his father.  An heir to a legacy of faith Pat now bequeaths the same to his own children.  This is the power of a child:  transforming what is detestable into something irresistible.  Making the one thing Pat was sure he would never do into the one thing he won't let anyone else do.  He is the father, this is his family, and he will be the first, not the last, to sacrifice for it.