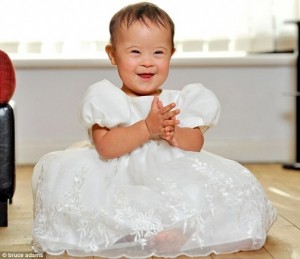 When Gemma Andre submitted photos of her young daughter, Taya, to a UK modeling agency at the urging of a family member, she didn't say anything about the fact that Taya was born with Down syndrome.
"No one asked the question, 'Is your child disabled?' So I didn't mention it," Gemma told the Daily Mail recently.
Even after the ad agency, Urban Angels, phoned Andre and told her that Taya had made the first cut, and they would like to meet her personally, Gemma stayed mum on her daughter's condition.
"I didn't want her to be chosen as the token disabled child. If she was going to be picked, then it had to be on her own merit," she says.
It turns out that Gemma didn't have to be worried: after going in for a photo shoot with Urban Angels, Taya was chosen as one of the few lucky child models for the agency.
"When the agency rang me and said, 'We want her on our books. She's absolutely beautiful', I was delighted," says Gemma.
"I asked them if they were aware she had Down's Syndrome. They said: 'It's immaterial. We've accepted her.'" At that moment, says Gemma, she burst into tears.
"I was overjoyed, not so much because Taya was going to be a model. More importantly, she had competed on equal terms with every other child and succeeded."
According to Alysia Lewis, owner of Urban Angels, "Taya is an incredibly photogenic, warm and smiley child, and that shines through in her photographs."
"That she has Down's syndrome did not enter the equation. We chose her because of her vibrancy and sense of fun."
"The standard is high [for selection by Urban Angels]," says Lewis, "the desire for places strong. Taya is one of 50 children we chose from 2,000 applicants."
Taya's story is a rare tale of non-prejudice at a time when in many Western countries more than 90% of children born with Down syndrome in utero never get the chance to see the light of day – instead being aborted in the womb in a modern-day resurrection of eugenics.
But for her part, Gemma says she never even considered getting the tests done that might have revealed her daughter's condition, since she and her partner had resolved "to love whatever child they were blessed with," in the words of the Daily Mail reporter.
However, she does confess that it came as a blow when, shortly after birth, the doctor announced that Taya probably had Down syndrome.
"From that moment I was mourning for the child I hadn't had," she said. "We couldn't help but selfishly wonder why this had happened to us. We weren't prepared for it. We couldn't celebrate. We felt numb and grief-stricken; just devastated."
However, since then, Gemma says she has not only adjusted to her daughter's condition, but has come to embrace it.
"I am determined Taya will have as many chances in life as any other child," she says. "I want her to go to dancing school. She loves music and has a sense of rhythm; she sways and claps her hands when I sing to her."
"When people say 'poor you' I find it offensive and irritating. The way I see it, some people cannot even have children and God has given me this special child."
Read more at the Daily Mail here.