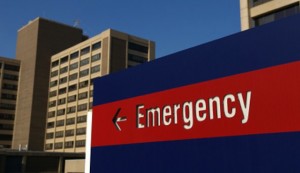 Fr. Peter and I have been trying to get together for over a year. We've both been so busy, he as a pastor of a parish and Catholic school (an hour's distance from me), and me as a wife, mother and author. But, just recently we finally succeeded on the day before St. Padre Pio's feast day. We caught up over a late lunch at the Blue Colony Diner, spoke about our mutual dear friend (our saint in heaven) Fr. Bill C. Smith, and chatted about Mother Teresa and Fr. John Hardon S. J. (whom Fr. Peter was also blessed to have been with), as well as reveled in a great big wonderful dose of Faith sharing.
As we ate and chatted, I told Fr. Peter that I so fervently believed that no matter what happens, on any given day, God is in control. I told him that I felt the Morning Offering prayer is one of the most important prayers ever. In it, we offer all of our prayers, works, joys, and sufferings of the day in advance and ask Our Lord to unite them to Him (and the holy sacrifice of the Mass) and He will transform them with His love and grace.
I said, "Even a terrible car accident like I wrote about in my book" (pointing to Mother Teresa and Me which was setting on our table because I brought Fr. Peter the newest version since he's in the book!). "And so many other things," I continued. "God can bring so much good out of them—He is always in control." As soon as the words came out of my mouth I blessed myself with the Sign of the Cross and knew without a doubt that I would be living those very words probably much sooner than I would have anticipated. I immediately pushed that thought aside, not to worry about it, and continued with our conversation.
Out in the parking lot, just before we parted, Fr. Peter gave me a special St. Padre Pio blessing—just what I needed. We hugged good-bye and I headed back home. As I drove back, my head started to fill with thoughts of a number of things I needed to accomplish to meet a bunch of writing deadlines. I prayed a couple of decades of the Rosary and looked forward to seeing my husband Dave, who had to go home early from work due to an upset stomach.
My head had been really hurting that day (I battled a migraine for a couple of days) and I hoped for some good sleep that night to maybe knock it out. But, after I got home my husband started to experience pains in his stomach, intermittently. The sharp burning pains continued through the night and got to be so unbearable that in the wee hours of the morning (on what was then St. Padre Pio's feast day) and after a call to the doctor, we went in haste to the Emergency Room.
On the way, we prayed together that Dave would get relief from pain and that he would get the care he needed. We were greeted with immediate professional concern and care. God does not disappoint. The ER is usually jumping with activity, but God's perfect timing was on our sides. I provided necessary information as my poor husband moaned and swayed in pain.
Then, off to the examining room where in a matter of minutes my husband was hooked up to the EKG, had an IV inserted and was already poked for blood by the blood technician to hopefully deliver to us some swift answers. Thankfully, a pain medication alleviated some of Dave's pain, which had become excruciating at that point. He could finally rest (after not having had any sleep the night before). We waited for the next step.
Prayers, Uncertainty, and Technology
I pulled out my Rosary and prayed and waited, keeping vigil over my husband. I was freezing cold in that plentifully air-conditioned room, so I pulled my denim jacket tighter around me — glad I grabbed it while running out the door from home — and my fingers glided over each bead of my Rosary. Eventually, a nurse would bring me a blanket which I wrapped around myself to stop from shivering. I had been up all night too and felt a bit sick as my head throbbed in pain. I offered up the pain for poor Dave.
There was no cell service by which to call anyone from the ER. But more than ever, I felt a need to get some sort of prayer request out. I mulled it over a short while and decided it would be all right to share this personal concern and ask for help. I managed to put out a Facebook request from my phone and pleaded for promises of prayers from my prayerful Facebook friends. Comforting responses of prayer from all over poured in immediately. Some friends were offering up Rosaries, others would pray at Mass, which was about to begin, and other such wonderful prayers for Dave. God is always so good I thought. I am very thankful for modern technology (when used for the right reasons). I was glad I opted to get the message out.
The blood work revealed that Dave's white blood count was astronomically high which meant he probably had a serious infection somewhere or that something critical was going on. Well, he already knew that something pretty bad was happening because of the intense pain and vomiting he was experiencing. But, we were hopefully steps closer to some kind of an answer. Antibiotics were immediately administered to deal with the infection. The ER doctor came in and pushed and probed Dave's body all over to try to determine whether or not the problem may be his appendix, his gall bladder, or something else.
When I was able to leave Dave for a moment, I hurried outside in the rain and sent a group text message to all my kids to ask for prayers. I also emailed Fr. Peter with a subject line of "Prayers PLEASE!": "Hi Fr. Peter, Hubby is in ER right now with serious pain and problem. High white blood count too. Either gall bladder or appendix doctor says. Running all kinds of tests. Thank you!"
I received an email back: "Doing my holy hour." He just happened to be making a Holy Hour and prayed before Jesus in the Blessed Sacrament and also beseeched St. Padre Pio for his intercession. I'm glad I added that urgent subject line so that Father would look at the message. And later he emailed from his phone, "We will continue to PRAY on this to St. Padre Pio." I quickly emailed a couple of relatives and then focused on my husband.
Next, was the large "cocktail" for Dave to drink prior to his CAT scan which would be administered two hours later. The concoction would help the radiologist see what he needed to see. Then came the waiting, praying, the uncertainty, and responding to texts and emails, more waiting and more praying. Dave's CAT scan was delayed by more than half an hour. I told my husband that I wasn't worried. "It's all in God's perfect timing — He has a plan."
The kids continued to text or email to check on Dave's status. Their communication was wonderful. They were all scattered in various parts and couldn't be with us physically (one is studying in France), but hearing from them made me feel that they were near. One of my Facebook friends sent over a prayer through a comment to my prayer request on Facebook; I read it to Dave.
The everlasting God has in His wisdom foreseen from eternity the cross He now presents to you as a gift from His inmost heart. This cross He now sends you He has considered with His all-knowing eyes, understood with His divine mind, tested with His wise justice, warmed with loving arms, and weighed with His own hands to see that it be not one inch too large and not one ounce too heavy for you. He has blessed it with His holy name, anointed it with His grace, perfumed it with His consolation, taken one last glance at you and your courage, and then sent it to you from heaven, a special greeting from God to you, an alms of the all merciful love of God (St. Francis de Sales)."
 I paused slightly a couple of times as I read the prayer to Dave because I felt as if I might cry as I read it to him. I could see that the prayer touched him too.
God's Perfect Timing
The time arrived to wheel Dave down for his CAT scan. I had to stay put in the room and just wait and pray. Afterwards, we got word from the radiologist. It was indeed his gall bladder — it was totally infected. (No more Taco Bell, Dunkin Doughnuts, and fast food for you, Mr. O'Boyle!) The surgeon came in to speak with us and explain what needed to be done. Since Dave's white blood count was so high, we didn't have choices — it was get that gall bladder out immediately and continue with IV antibiotics and fluids. 
His surgery would follow the one that the surgeon was about to begin on another man. I was told I had about two hours before Dave's surgery. After I was sure that Dave was okay for me to leave him, I dashed home in the pouring rain to take care of our pets, make a few phone calls to family members (and one to the parish to see if we could get an anointing) and then grabbed a few things we needed. Meanwhile, Dave was admitted to a room at the hospital and the hospital staff called me to tell me his phone number and room number. I was then on my way back through the winds and rain. I called Dave from my (hands-free) cell phone as I drove back. As we chatted, two women arrived earlier than expected at his doorway to take him to surgery.
"No! Don't let them take you! I have to be there."
Dave let them know that he wasn't leaving the room until I got back there. We prayed together over the phone, me beseeching dear sweet Jesus, His Blessed Mother, all of my friends who are saints, (Mother Teresa, Fr. Hardon, Fr. Bill, Blessed Pope John Paul the Great, and St. Padre Pio) to take care of everything. I hurried along, arrived at the hospital and ran into the elevator, making my way up to the 3rd floor. I peeled off my coat, soaking wet from the rain and went over to Dave's bedside to give him a hug and kiss. We said a few more prayers together and the women arrived again at the door to take Dave down to surgery.
 I insisted upon going in with him to speak with the anesthesiologist about a few concerns. Everyone we met in that room prior to the operating room was very understanding and caring. I was so happy to see that the anesthesiologist was our friend and fellow parishioner, a prayerful man. God was surrounding us with comfort and great care. I noticed others working there that were from our parish too.
 I took a blessed Miraculous Medal out of my pocket and blessed Dave with it making the Sign of the Cross on his forehead. A year prior, I had placed that blessed Miraculous Medal on St. Padre Pio's glove when I was giving a woman's retreat where I was privileged to have access to the glove. After blessing Dave with the medal I kissed it, touched it to the one I wear that dear Mother Teresa gave me and handed it to the anesthesiologist who was so happy to receive it. He kissed it and put it right into his pocket. I had no doubt that he was meant to receive it.
I was allowed to stay in that room while they were all prepping for the surgery, going over things with Dave. I looked up at the enormous clock at the foot of Dave's bed and mentally noted the time – 2:53 PM. The surgeon poked his head in and talked to us and said that they'd be taking him in a moment. I said, "Perfect, at the Hour of Great Mercy!" Does it get any better than this? When all was said and done, it would be three o'clock when Dave went in to surgery. God had been constantly reassuring me of His Divine timing.
 One more kiss to Dave and I leaned over the gurney to hug him and said "good bye." I watched as he was wheeled away and as he waved to me and was soon out of my sight. A woman escorted me to a waiting area and I was told that the surgeon would come out and speak to me after the surgery. It would be about an hour or more, depending what they found and how it all went.
When I arrived in the waiting area, another women was sitting in the room too (I'll call her Janice). I wondered if she was the wife of the man who was having surgery just before Dave. We greeted one another and were soon engrossed in conversation about our husbands. By God's grace it didn't take long before we shared about our Faith in God and the belief that God, the Divine Physician was in control. Her husband (I'll call him Joseph) was in the recovery room and Janice was waiting to see him after his surgery (also to have his gall bladder removed).
I had my Rosary in my hand and told her that I wanted to not talk for a bit so I could focus on praying since Dave's operation would be starting. Janice told me she'd pray too and bowed her head. I also prayed for her husband.
After praying a while, we chatted some more and Janice showed me the spiritual book she was reading. I pulled out my book Mother Teresa and Me book I had brought with me to read through and check for typos (it's what authors do) since it was newly released, just in case there was time when my husband rested at some point. She was impressed that I had known Mother Teresa and that I was an author. We spoke about prayer and Faith and felt very comfortable with one another, peacefully praying and waiting together for word on our husbands.
Janice shared a bit about her faith journey and told me that she and her husband were searching for a church to attend. I felt inspired to give her two blessed Miraculous Medals which I had placed on Pope John Paul II's tomb and Mother Teresa's bed at the convent in Rome where she stayed with her Sisters when I was in there last September. As I retrieved them from my purse, I told her that I have carried on a tradition of Mother Teresa's to give out blessed Miraculous Medals to people I meet. She was very happy to receive them.
After some time, Janice told me she'd go and see if she could find out anything about her husband's recovery. She was eager to see Joseph since he had suffered a major heart attack in the past and she wanted to be sure everything was going well. While she was gone, I prayed for both men and occasionally checked messages on my cell phone. The time ticked away and after a while a woman poked her head in the waiting room to tell me that the doctor said to let me know that my husband was "doing okay" and that the doctor had to finish up with the surgery. Thanks be to God! Thank you, Jesus, Blessed Mother Mary, St. Padre Pio and all the saints!
After what seemed like an eternity, the surgeon finally showed up and walked briskly towards me. He sat down and pulled out several photos and showed me pictures of Dave's insides and infected gall bladder.
"It was horrible!" he told me. He said it was so incredibly bad that he told his assistant to set the timer and "in five more minutes it would have been totally a different story! If it wasn't going the way it should within that five minutes, I would have had to cut him wide open."
I said, "It was the grace of God and His perfect timing!"
"You're not kidding it was the grace of God!" he exclaimed.
Feelings of relief and thankfulness flooded me. As well, I felt absolutely filled with peace and a certain awareness that God was indeed in control and I was so happy that this surgeon knew it full well too! Thankfully, the surgery could be done laparoscopically which means an easier recovery since it is far less invasive.
After the surgeon explained the details of the surgery and how Dave was doing, I pulled out that copy of the Mother Teresa and Me book and told him that I'd like to give it to him. I inscribed it to him and he happily accepted it. I asked if I could give him a hug. He happily accepted that too! I told him I was very thankful to God and to him.
I was moved to another waiting area closer to Dave and found that I had a little cell reception there. I was able to call a relative and send some text messages to the kids. I waited as patiently as I could for the word that I could go to see Dave in the recovery room.
God's Amazing Grace 
Janice found me in the new room. She told me about her husband's status and that she saw my husband wheeled into recovery. We shared a bit more and before long we were both able to be reunited with our husbands.
During the next couple of days, both Joseph and Dave were cared for with lots of TLC by hospital staff (and their wives!) and they worked at regaining their health and strength. Dave had to fight off his serious infection with countless IV bags of antibiotics. Joseph had health issues to deal with has well. I gave Janice a copy of my book Mother Teresa and Me because she seemed very interested in reading it when I showed it to her the previous day and also because I knew that she was searching for a church. I prayed that my book would stir her soul.
Each day, Janice and I found one another (our husbands were just a few rooms apart) and we spoke often about prayer and our good Lord. Janice had been reading the book I gave her and said felt very comforted each night as she read more of it before she fell asleep. We embraced at the end of each hospital day, promising prayers for one another and our dear husbands.
Once during one of our conversations, Janice told me that she had been praying so much lately for direction from God. She expressed, "I came to this hospital a dry parched sponge and through you, God is leading the way for me." My heart soared and I whispered a heartfelt prayer of thanksgiving.
We both commented about how amazing God is and how He is always taking care of us. This lovely woman also told me that she is planning to start going with her husband to the Catholic church in her town. Praise God from Whom all blessings flow!
Throughout my husband's stay at the hospital many very exciting and interesting encounters came about while God's amazing grace abounded. I shared my Faith with some of the nurses and CNA's too. We had beautiful conversations, giving glory to God and a few others ended up with copies of Mother Teresa and Me too! Dear Mother Teresa please intercede for them all!
And speaking of good timing, I received word from two producers of radio shows I was scheduled to do asking if I minded if we delayed our segment for a few days due to issues on their end — God's perfect timing again!
At one point, Joseph and Janice meandered down the hall to visit us in Dave's room. Dave and I were about to take a walk too (something very important to do after surgery to get the body in motion once again). Joseph greeted Dave and said, "I hear we have something in common." It was the first time they actually met. All conversations up until that point had been with Janice and me. I smiled when I heard Joseph's hearty greeting and as I looked at the two men wearing the same green patterned hospital gowns. I don't think Joseph was referring to their attire though!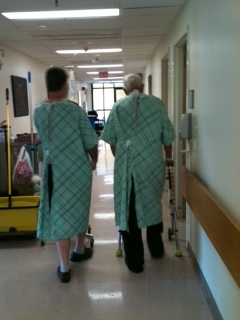 After a little chat about their surgeries and present medical status we headed down the hall together. I could see that the hospital staff was smiling at us as we strolled by because the friendship that we had forged by God's grace in those few short yet intense days was very visible in our open displays of embraces, whenever we gathered together to chat, and at that particular moment when we took a walk together. I couldn't resist snapping what I considered an endearing image of the two husbands ahead of us women, pushing their IV poles and chatting away about life, their professions, and gall bladders or lack thereof!
Dave was discharged on Sunday and we were so happy that we would be able to go to 5:00 PM Mass that night. Joseph would have to stay a couple of more days. I assured Janice and Joseph of our continued prayers. I also gave Janice a copy of my woman's prayer book A Catholic Woman's Book of Prayers and a copy of my Catholic Saints Prayer Book to Joseph. I remembered Janice had told me that he had been baptized a Catholic so I hoped the saints would inspire Joseph through that book.
Later on Janice wrote me a beautiful email expressing her thanks for the books and medals and telling me how inspired she felt meeting me. She shared that because of me expressing my faith with her and others while at the hospital, she felt the courage to help one of the nurse's aides by offering the woman prayer when it was apparent to Janice that the woman really needed it. The nurse's aide was extremely receptive and appreciative. God's amazing grace abounded on that third floor in so many ways!
Many emails have passed between Janice and me in the last few days. I called her by phone too to check on her because I sensed one evening after receiving her email that she was feeling very alone because her husband was still in the hospital. She expressed such joy to receive my call and said, "You are my angel!"
That Sunday evening at Mass, as I sat beside my recovering husband, my heart swelled with thanksgiving. Only a few short days earlier we had faced such uncertainty. Yet the words, "Pray, hope, and don't worry!" (St. Padre Pio) rang in my ears and brought intense peace to my soul. After receiving Jesus in Holy Communion and as I knelt and spoke with Him, my closed eyes brimmed with tears of thanksgiving and love.
God is forever loving us and He wants us to be His instruments of love to others.
I just heard from Janice and she told me that Joseph is experiencing some difficult health issues. He is seeing his doctors and we are praying. As I type these words, Janice is looking for a chain to put the blessed medal on that I gave her for Joseph. May Our Lord heal Joseph. May His Blessed Mother intercede. "O, Mary, conceived without sin, pray for us who have recourse to thee" (words on the Miraculous Medal). May Saint Padre Pio, Blessed Mother Teresa, Blessed John Paul the Great, and all of the saints intercede for this very special couple. Amen.