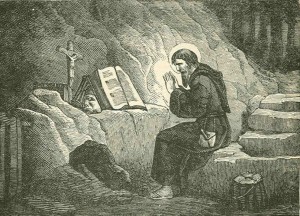 The brief reflection below is based on a 3-Minute Lenten retreat brought to you by Loyola Press. At the bottom of this reflection is a link for you to access the retreat.
In today's reflection, Jesus invites a rich man to invest in eternity. Give to the poor and you will have treasure in heaven…
But the investment is too risky. The man simply cannot surrender his possessions.
The story challenges each of us to ask: Are my things keeping me from serving the poor?
Is my flat screen TV preventing me from volunteering at the local food shelf or woman's shelter? Is my comfortable home isolating me from my neighbor in need? Is my ringing cell phone deafening my ears to the cry of the homeless, the handicapped or the lonely?
In heaven, we will stand with those we have served on earth, our lives intertwined forever. As the radiance of God's presence shines upon us, treasures will be ours. We will live in mansions, eat at banquets and dance together on streets of gold.
So prepare for eternity. Give to the poor. Make an investment in streets of gold.
Click here to enjoy your 3-Minute retreat.
_____________
Editor's note: Loyola Press recently launched the Finding God Video Contest to encourage children to find God's presence in the every day. We're inviting schools and parishes to enter the contest by submitting short videos answering the question: Where do you find God?
The winner of the contest receives Finding God 2013 textbooks for grades 1-6 at their parish or school. Online voting will determine the winners, who will be announced at the National Conference for Catechetical Leadership on May 8th.  This contest is a neat opportunity for schools to integrate technology with our everyday faith as well as build and reinforce Catholic identity.