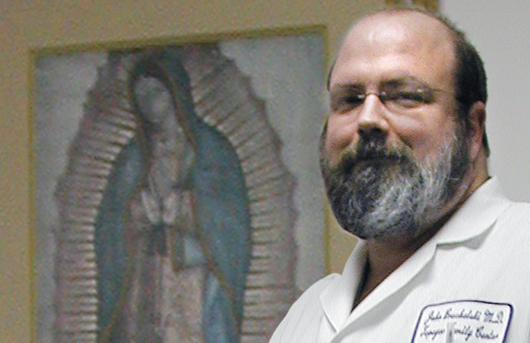 I read a story this week about a doctor who changed his attitude toward abortion some years ago. His name is very familiar to those of us who are residents of Northern Virginia: John Bruchalski, MD. He is the founder of the Tepeyac Family Center. This change of heart wound up changing his entire life—and the lives of countless others.
His story reminded me in many ways of other physicians who made the transition from being an abortionist to being a committed pro-life physician. Names like Bernard Nathanson, MD and Beverly McMillan, MD come to mind.
So why write about Dr. Bruchalski now? This story is timely because at this special time of year, as we prepare to welcome Christ, our infant Savior and King, we must remember the miracles that occur in the lives of doctors who once practiced evil and who now do so much good.
A few years ago LifeSiteNews wrote about Dr. Bruchalski: "A former abortionist in his ob/gyn residency, the 50-year-old Virginia native has now become a leading light in pro-life medicine. Through his unique Tepeyac Family Center, one of the largest free-standing pro-life medical practices in the country, Dr. Bruchalski's team offers a safe haven for women in crisis pregnancies, spreading hope through authentic health care that respects the natural processes of the woman's body, the right to life of the unborn child, and the eternal end of the mother's soul."
The Tepeyac Family Center has an educational arm as well, known as Divine Mercy Care. Recently, CNS News told readers:
Divine Mercy Care partners with all the local pregnancy care centers. It raises funds to serve patients who have nothing, but need everything. In his spare time, John travels the country telling medical students and young doctors that, yes, they CAN practice medicine this way. That they don't have to leave their faith in the car before walking into their clinics.
If this isn't an incredible Christmas story for our times then we have no idea what might move you to consider joining a growing pro-life community in building a culture of life. The story of a former abortionist who is now serving God and teaching respect for the human person at every stage of his life should inspire anyone who considers the facts in the life of a former abortionist turned pro-life hero.
Dr. Bruchalski has given hope to couples expecting babies and who are confronted by obstacles they could not have overcome without his loving concern for them and their baby. He has also given inspiration and encouragement to those who discover that they are infertile. He writes:
Many successful options exist for Christians who want a morally sound way to treat infertility, and who need help combating the sadness, frustration, and even anger that can come from the inability to "have a child." We all need to discern the course God has for us—physicians as well as couples. Sound science based on the dignity of the human person is available to help couples to cooperate with our Heavenly Father and conceive a child. Some may be called to adopt a child whom God has sent via another set of birth parents. Or perhaps some couples have a unique vocation that does not involve raising children. It is our challenge as believers of the living God to know that he loves all of us profoundly and that he knows us better than we know ourselves. When we align our will with his will, and respect his great gift of human life, there is hope for us all!
Yes, this is indeed a doctor who lives his life committed to building a culture of life. We take time this season to thank God for the real heroes in our midst who have faced evil, participated in evil, and who have chosen to leave behind the shackles of Satan and serve God. These miracles inspire and encourage us daily.
Dr. John Bruchalski is a true hero—a Christmas hero for every pro-life American who approaches each new day with one goal in mind: building the culture of life.