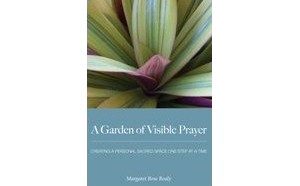 The approach of spring is an excellent time to think of gardening. One of the projects on my bucket list is to create a beautiful flower garden in my "sacred space" near the statue of Our Lady in the forest adjoining our home. As my children were growing, then as I began writing fiction, this project has been pushed down on my priority list time and again. Realy's book has given me a renewed enthusiasm to set aside time this spring to begin to work on my sacred space.
"A Garden of Visible Prayer" begins with a beautiful St. Teresa of Avila quote, "A beginner must think of herself as one setting out to make a garden in which her Beloved Lord is to take His delight." Wow.
The author describes this book as a "step-by-step approach to help guide you in creating a meaningful sacred space – a place you can step into, close at hand, matched to what brings you, personally to inner quietness."
Each chapter begins with an inspiring, relevant quote and instructions and information the beginning gardener would need. Black and white photographs help to illustrate each chapter. Some of the most relevant chapters include: Defining the Garden, Memorial Gardens, Collecting Ideas, Prayer Garden Location, Site Assessment, Our Senses, Basic Building Blocks of Design, Plant Selection, Preparation and Installation. I particularly enjoyed the section on "Seating," and the story of the older man who kept a chair next to his bed.
I highly recommend this book to anyone wishing to create a beautiful sacred space in which our Beloved Lord can "take His delight."
Here are a few other reviewer comments:
"Long time gardener and author, Margaret Rose Realy believes that solace and the gentle voice of God can be heard in a garden. Take a walk with her within the pages of her beautifully crafted unique book, A Garden of Visible Prayer as she descriptively guides you every step of the way to create your own personal retreat space, incorporating a variety of elements, which will lead you to prayer. Even with meager means or a small space, by following the steps in this book, your end result will be a distinctive and beautiful setting in which you can bask in God's creation and where you may very well hear His voice telling you to, "Be still and know that I am God." Donna-Marie Cooper O'Boyle is a Catholic speaker and author of numerous books and EWTN TV host.
"Many books can show you how to design a garden that pleases the eye and ensures good plant growth, but few books help you create a garden that promotes your spiritual growth. Margaret begins by giving you tools to determine the spiritual aspects that you want in your garden as well as the sensual and physical characteristics that influence site, plant and accessory selection. She then provides practical design techniques, pointers on plant selection, soils and media, containers and tips on planting trees, shrubs, perennials and annuals. This book is useful for anyone designing a new garden but invaluable for those of us looking to create a space for meditation, contemplation and prayer." Dean M. Krauskopf, Ph.D., Extension Education Emeritus, Michigan State University Cooperative Extension Service