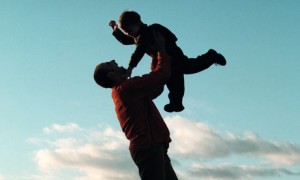 One of the most amazing things about fatherhood is my children's capacity to analyze every little thing I do. Give them an inch and they will take it a mile with anything I either said or did.
No one ever wants to be challenged or corrected for their wrongs. This is a basic fact of life due to our human tendencies to sin. Our concupiscence (if we recognize it) keeps us humble so to speak in thinking we have our actions and behaviors under control when in reality it is a constant lesson in the art of suffering. This new year offer us an opportunity as fathers to set a higher moral standard not only for ourselves but for our children to witness. St. Paul tells us:
"I do not understand my own actions. For I do not do what I want, but I do the very thing I hate."  (Rom 7:15)
St. Paul provides a great springboard for any father desiring to be a better moral witness to his children. "Don't do the things you hate; that would provide a negative example to your children." Sounds easier said than done. However, when put to the test, watching what you say or do can prove to be quite challenging, especially if it's habitual actions we are talking about. The goal of any parent is to be a model of holiness to his or her children, in particular to model how to establish and live a personal relationship with Jesus Christ. St. John reminds of this simple plan: I must decrease, He must increase (Jn 3:30).
So, how do you begin to gauge your moral compass for the sake of your children? The following biblical principles offer us dads a glimpse on exercising authentic moral masculinity that I believe our children so desperately need and desire.
"Always be ready to give an explanation for the hope that is in you . . ."  (1 Pt 3:15-17) Children view their fathers as a barometer of how things will turn out that day by the first attitude they see their father display towards himself and those around him. St. Peter stresses the value of hope in a catechetical sense as the chief means of witnessing the Gospel of Jesus Christ to others.  Be ready, first thing.
 "O Lord, open my lips, and mouth shall show forth your praise." (Psalm 51:15) Many of us use the strength and depth of our voices to command authority, respect, and discipline from our children. However the very gift we perceive as a great asset can potentially be a deficit. I firmly believe our fatherly language must exhibit a depth that commands respect. But it must not be abused nor used as a weapon. Our fatherly language must reecho Christ in our communication with our children.
Ask it will be given to you, seek and you will find; knock and it will be opened to you. (Mt 7:7) The virtue of humility goes a long way in parenting, especially when our children correct our faults. Great character is developed in a man who understands his limitations and receives fraternal correction – even from his own youngsters.

For what does it profit a man if he gains the whole world and loses or forfeits himself? (Lk 9:25 My children have never asked me how much money I make or what does the family financial portfolio look like. They merely ask me what time will I be home so "we" can play. This simple question helps me understand the desires of the world cannot supersede my role as a father and husband  to my wife and children.