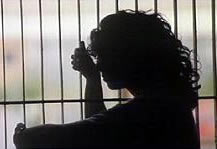 A smooth shaved head, dark tear drop forever etched by her left eye, and Roxanne scrawled in ink across her neck, this young woman stood before me, arms over crutches to support her newly amputated leg and smiled.  "I can't believe I'm getting to meet you," she said.  "I finished your book today.  You've been through so much," she stopped and looked me over, "Look at you.  Wow.  And you went through all of that."  She reached her hand out and shook my hand.
I've been through so much?  I thought as I took in this woman before me.  "How did you lose your leg?" I asked.  We had some time to talk as the other prisoners entered the room.  She eagerly told me a rather gruesome and dark portrayal of what her life had been in her 24 years.  Drugs, selling drugs, rape, beatings, and the final climax that left her in prison – a bad dealing with crack,  rape, beating, left for dead, loss of her leg below the knee and straight to prison.
Yeah, and I've been through so much…
She finished her story just as the last group was coming into the room.  "But, man," she said.  "How did you go through all of the stuff you went through and be who you are today?  I want to change my life.  I tried it for my mom and I failed.  She's dead now.  I want to do it for myself.  I can't do this anymore."
There were a few others I had the privilege of speaking with before I spoke that evening to the 100 or so women prisoners at Plain State Penitentiary.  These were women who electively wanted to attend this chapel session and were attending group meetings such as Mary Magdalene Sisters and going to Reconciliation and Mass every Saturday (thanks to two retired priests).  Some were honest about being repeat offenders.  They told me what they had done wrong and that they were desperate to do right. They know the decision is on them.
I LOVE speaking to these women because I know they know what I'm talking about when I speak about the suffering, the wayward paths we go down because we get caught up in self-pity and redirected anger, and the battle we fight inside to overcome the weakness of falling for the lies over hearing God's truth.  I can be the most direct and forthright with these women and I love having that freedom to simply tell it like it is without the concern of 'am I reaching everyone?'
As I looked out at all of those women with tears running down their faces I could feel the Holy Spirit engulf them and declare, "This is not what your life has to be!  This does NOT define you!  Act forgiven and get on the path I created for you before you were even born."
I did my best to convey that message and the result will only be between them and God.  Thanks be to God for giving me the opportunity to minister to His daughters.  Please pray with me that they begin to recognize their true worth regardless of what has been done to them or what they have done in the past.  I pray for their hearts to be truly full of repentance and to begin walking in step with Christ.