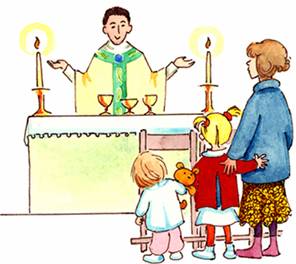 In this week's Gospel, Mark paints a touching portrait that is familiar to most of us, of the Christ who loves all children:
And people were bringing children to him that he might touch them, but the disciples rebuked them. When Jesus saw this he became indignant and said to them, "Let the children come to me; do not prevent them, for the kingdom of God belongs to such as these. Amen, I say to you, whoever does not accept the kingdom of God like a child will not enter it." Then he embraced them and blessed them, placing his hands on them.
Whether you're the type of parent who brings even young children to the front of the sanctuary where they can see and be seen . . . or the type that prefers to use the nursery or hunker down in the "cry room," there is something in this Gospel to encourage all of us.
I've often told my children that we will never get closer to heaven on earth than when we receive Jesus in the Eucharist – the place where heaven literally touches earth, filling us with the divine life of Christ. This idea is reflected in an article by Father Dwight Longenecker ("Standing on My Head"), which contains a beautiful message about why the Church uses altar servers. He writes in part:
Our worship on earth reflects the worship in heaven. What we do here at the holy sacrifice of the Mass is a kind of distant echo of what goes on in heaven. There, the Lamb of God is offered in one timeless and eternal sacrifice. There the saints and angels worship around the throne of the Lamb. In that city there is no sun, moon, or stars, for the Lamb Himself is the light of that city. This altar you see here is a reflection of the altar in heaven. This chalice is a sign of the eternal Precious Blood of the Lamb. This host is, on earth, the sign of the Eternal Bread of heaven. The priest is an icon of Christ the Lord – and who are you? You represent and reflect on earth the heavenly host.
That's right. I want you to represent the saints and angels.
That's why we have children serve the Mass if we can, because you children remind us adults of what the Lord Jesus said: "Unless you become like a little child, you cannot enter the kingdom of heaven." So just by being children you remind us what we must be like to become like the saints and angels.
Heady stuff, really . . . something that would likely cause an adolescent to stand a little straighter, sing a little louder, and watch a bit more attentively every time he serves on the alter. On the other hand, nothing in this week's Gospel indicates that Jesus was speaking only of the well-behaved, attentive cherubs in the crowd. If the apostles were trying to usher their parents hurriedly to the back of the crowd, likely there were a few ankle-biters that were conducting themselves with less-than-stellar deportment. And yet, Jesus welcomed them, too.
The first week we attended Mass together at St. Andrew's Parish (in Saline, MI), three-year-old Christopher let loose with a roundhouse punch at Father's vestments when the priest reached out to bless him as we received Eucharist. At two, Sarah (who loves to sing), let loose at a church we were visiting with a particularly enthusiastic rendition of "Amazing Grapes" . . . right in the middle of a homily. (Apparently she thought the pastor was in need of reinforcements.) In time we were able to move into the main sanctuary, but those first few months I'm sure the apostles would have ushered us to the perimeter, too, had we been there.
Even so, this week's Gospel assures us, we are closer to the kingdom when we are like the children in our midst. As a newcomer to the Catholic faith, I recall feeling distinctly childlike when I first started sneaking into Mass. I didn't know the prayers or responses by heart (as it appeared everyone else did), didn't know the hymns, and more than once got caught on the "glory train" of the Our Father. (If you've ever prayed the "Our Father" in a room with non-Catholic Christians, you know what I mean: all the Catholics drop out at "deliver us from evil" while their Protestant friends proclaim, "the kingdom and the power and the glory forever.")
And yet, the memories of those first weeks in a Catholic Church remain with me, nearly twenty years later. I didn't always understand what was going on, but what I did understand – what I took in with my senses, marveling and wondering – fascinated me. It was at the same time old and new, familiar yet extraordinary. The more I saw, the more I wanted to understand.
My prayer for you this week, my friends, is that in this Year of Faith you will rediscover for yourself a renewed sense of wonder and awe in the treasures of our Catholic Faith.
Are you doing anything special to celebrate the Year of Faith? Starting October 11 and throughout the Year of Faith (November 21, 2013), would you like to receive a free weekly reflection from Ascension Press in your email box, to help you reflect more deeply on how to live your faith with greater intentionality? Participating authors include Danielle Bean, Jeff Cavins, Teresa Tomeo, Greg and Lisa Popcak, Dr. Sean Innerst, and Dr. Edward Sri. Sign up at TheCatholicYearofFaith.com.