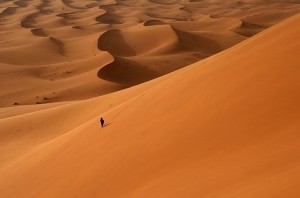 It is late, almost midnight. The St. Louis Cardinals ballgame ended just a few moments ago, so I turn off the radio on the nightstand. Now, the house is quiet, the bedroom dark. The only sounds I can detect are the dog's snoring and my wife's soft breathing as she lays sleeping next to me.
The distractions of the day — the TV, the computer, my cellphone — all are taking their rest. I am forced to retreat into myself. Finally, I think, I might find the peace I long for and need.
I try to pray.
I have been trying for quite some time, for several weeks, to no avail. The words won't come. After examining my dry spiritual state for a while, I come to wonder again whether the inability to pray might be because no one is there to listen. I feel alone. I intimately understand Jesus' dying words: "My God, my God, why have you forsaken me?"
My mind is filled with all sorts of things. No peace there. Just noisy junk. I try to make those concerns into prayer but can't focus long enough. I try to whisper an "Our Father" or a "Hail Mary." The words won't flow. I try to concentrate on my breathing, to become aware only of my exhaling and inhaling. So many other things provide the clutter to sidetrack me.
I doze off for a little while, then startle awake. I watch the clock change to 3:54. I try again to pray. Still no peace. I am awake at 6 in the morning, still lay in bed looking for the right words and the right thoughts at 7:30. Prayer — God — continues to elude me.
Most of my life, prayer has come so naturally, a comfortable conversation with God that fostered honesty and depth and heartfelt worship. It has been like talking with a good friend some times, like being in complete awe of my Creator other times. I usually feel like I can say anything, and often I have heard God audibly speak to me. Other times, I haven't needed to say anything at all. Prayer has come in the unspoken, in the silent stretches. During those hushed moments, God has shared his thoughts with me. Even if I didn't hear him clearly, I still had a clear sense of what he wanted to tell me.
The Holy Spirit can communicate in so many ways. In colorful flowers, a cool breeze on a warm day, a tight hug from a child. In music and a message from a friend. In smiles and laughter and tears. Gratitude can overflow when recognizing all blessings great and small.
God also can impart lessons and guidance in Scripture, through the stories of the prophets and the life of Jesus. I have enjoyed prayer time with the Bible as well.
But nothing inspires me now. Not even Mass or the realization of God's goodness. I think only of things for which I am grateful and endeavor simply to say thank you. I read a prayer. I hold a rosary. I ponder the example of some saints — including Blessed Mother Teresa, about whom I have read lived for years without feeling God's presence in a tangible way.
I feel abandoned.
I can't pray. There is guilt and confusion and a perception that I'm not worthy of God and all he offers. I have shared these feelings with a few people. They ask how they can help; I request that they pray for me. It's the thing I can't do for myself.
A priest whom I respect suggests I read Psalm 22, in which verses two and three say: "My God, my God, why have you abandoned me? Why so far from my call for help, from my cries of anguish? My God, I call by day, but you do not answer; by night, but I have no relief."
Later, in verse 25, the psalmist says: "For he has not spurned or disdained the misery of this poor wretch, did not turn away from me, but heard me when I cried out."
So I am supposed to hold out hope.
I'm not alone in feeling this way, am I? There are others. You are out there. I know you are. Perhaps many of you. As much as you want to feel connected to God at all times, to have confidence in your relationship with Jesus, to constantly feel that special affection for him and know that you are worthy of all his love — as much as you want to walk with him every moment of every day, it's not always there.
May God help us.