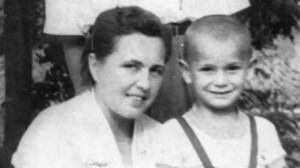 In a short video released this week by Human Life International (HLI), Dr. Imre Téglásy tells his personal story of learning he was as an abortion survivor and how that revelation as a young child drives his work to defend life in his home country of Hungary.
"I was 11 years old … and somehow I heard a family speech about my past. My father told some relatives the story, and I just had a very sad feeling because at once I was able to see clearly why my relationship with my mother was so complicated," Dr. Téglásy revealed. "At 11 years old children are very loved by their parents, the relationship normally is good, but [there was]something wrong with [the relationship with]my mother. So this was a kind of an earthquake in my heart, and I realized I was an abortion survivor."
Dr. Téglásy, who is president of Alpha Alliance for Life, HLI's affiliate in Hungary, tells the story in a bonus clip from HLI's new documentary "Central and Eastern Europe: A Return to Life" premiering on Eternal Word Television Network (EWTN) on January 20, 2013. The film, which focuses on the pro-life battles in Hungary and Poland, will also be broadcast on EWTN on the evening of the 40th March for Life in Washington, D.C. on January 25.
"I'm motivated to do the pro-life work by my own personal life," said Dr. Téglásy. "My father was mayor after the second World War, so we were declared class enemies by the Communists. And this was the reason why they had to leave the capital, Budapest, and they were forced to go to the country side where they lived among very miserable circumstances. And in this situation, my mother realized that she was pregnant."
"She was urged and forced and all the circumstances were against me, against a baby, and she tried to perform an abortion on herself … she was not successful," he said.
Joseph Meaney, director of international coordination for HLI, describes in the new documentary how Nazism and communism destroyed the pro-life cultures in Central and Eastern Europe, but said it's ironic that the Communists may have actually saved Dr. Téglásy's life.
"He was almost aborted by his mother," said Meaney. "Really it's one of those ironies that the Communist regime actually saved his life because his parents were shipped off as enemies of the state, as prisoners, when his mother was pregnant. And she wanted to have an abortion but she couldn't."
"It's his father and the fact that no abortion was available that saved his life. His mother even tried to take pills to have an abortion and it wasn't successful," Meaney said of Dr. Téglásy.
Dr. Téglásy cited his father's strong Catholic faith and opposition to abortion as some of the main reasons he is alive today.
"My real spiritual parent was my father who was very much against the abortion temptation of my mother. And of course it was a conflict between them," he said. "He was a very strong Catholic, my father. He was a member of a family with nine children. And his parents, my grandparents, were very strong Catholics. And of course they accepted the gift given by God, the gift of children. And this was the reason why [my father]was for my life at that time."
Dr. Téglásy, who is also Catholic, has six children of his own.
"He could be doing so many other things," Meaney said of Dr. Téglásy. "He has a Ph.D. in literature. He could be working at the university. But instead he has dedicated his life to defending life."
"Imre … is a person who was almost killed by abortion, by the Culture of Death," said Meaney. "He has set up a hotline throughout the country for any women in need to call in so that they can save the life of their child. He is a pro-lifer with a mission. He has seen that abortion affects us all, and in his case, almost killed him."
Dr. Téglásy's faith in God and belief that God has sent him to spread the Gospel of Life motivates his work in the pro-life movement.
"It was not a decision. I was urged, I was sent by God to do this work," said Dr. Téglásy. "A lot of people tried to hide the problem of this [abortion]question, dealing with this question as a taboo. I had a feeling that this has to be answered, this problem has to be solved in a good manner and in a manner which is suggested by God."
"And," he said, "later on I realized that it is not just my personal problem. It's a problem of my nation, it's a problem of Europe and it's a problem of the whole world."