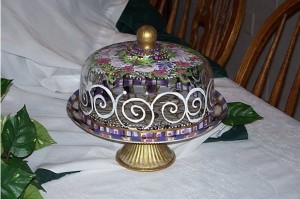 As I head out for a weekend in Georgia, to celebrate my parents' 50th anniversary, I wanted to leave with you a recipe I usually make for a small group of friends the third weekend of each Advent, for Rose Sunday. For so many of us, Advent is merely a time to get ready for Christmas – we don't often take time to slow down and enjoy the season. And so, I'd like to share this with you, in hopes that you will find an excuse to invite a few friends over and celebrate!
It takes a bit of time, but totally worth the results! One of the things I like best about this recipe is the fact that it makes 4-5 cupcakes in addition to the cake. That way the family can "taste test" without ruining the picture-perfect company treat! The picture is my special "Advent cake plate" the day after I make my Advent Cake. Enjoy!
You will need …
3 C flour (all-purpose)
1/2 tsp baking powder
1/2 tsp salt
1/2 C unsweetened cocoa
1 tsp cinnamon
1/2 C shortening
1 C butter, soft
3 C white sugar (it's once a year, so live it up!)
5 egg yolks
5 egg whites, beaten stiff
1-1/2 C milk
1 tsp vanilla
1-1/2 tsp Amaretto (almond flavored liquor)
cinnamon sugar for dusting the pan
Preheat oven to 350 degrees. Butter a 10 inch tube pan, and dust it generously with cinnamon sugar. Shake out excess. Line 4-5 muffin/cupcake holes with liners, set aside.
Sift together dry ingredients, and set aside. Add flavorings to measured milk, and set aside.
Cream shortening and butter in an electric mixer on medium speed until fluffy, gradually adding sugar. Add egg yolks one at a time, beating well after each addition. Mixture should be light yellow and light.
Alternate dry ingredients and milk, stirring well to combine. Gently fold in beaten egg whites, mixing just until no streaks remain. Fill bundt pan to 1? from the top, pour remaining batter into muffin tin.
Bake 1 hour 15 minutes, until toothpick comes out clean. (Cupcakes come out after 30 minutes.) Rest in pan 10 minutes before inverting on to cake plate. Glaze while still warm. Serves 14 or so.
GLAZE:
5 Tbls cocoa
2 Tbls vegetable oil
4 Tbls butter
3 C powdered sugar, sifted
1 Tbls Amaretto
boiling water
In small saucepan over low heat, combine cocoa, oil and butter. Stir until melted and smooth, remove from heat. Stir in powdered sugar and Amaretto, adding water 1 Tbls at a time and beat until smooth and "glazy." Dip your cupcakes in first, then pour the rest over warm cake. Sets with a nice sheen almost instantly. Now try to resist cleaning out the pan with your finger. I dare you.