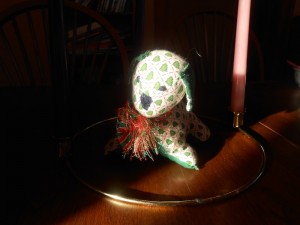 My wife and I sat on the couch, the room dark except for a strand of colored lights  wound around the Christmas tree and the flickering candles in the Advent wreath.  We'd just finished reading our Advent reflection and saying the Rosary.  Now we sat together and watched snow swirl outside the window.
This time alone for the two of us was the cap of a wonderful winter day of adventures spent together as a family.  We started with a leisurely morning, the whole crew gathered in Mom and Dad's bed, snuggling under blankets and "calculating" books (as our one year old calls 'reading') and watching snow out our window.  When at last we roused ourselves to brace the cold on the other side of the quilts, we made our collective way to the kitchen where we talked and cooked and finally sat down to a monster breakfast of bacon and eggs, coffee and juice, and a collection of 'outboard' dishes:  toast and jam, fried potatoes, Poptarts and other assorted breakfast accoutrements.
Once we could move again, we bundled-up in hats and gloves and headed outside to enjoy the new snow coming down thick and fast.  We ambled our booted way through the neighborhood, Ooh-ing and Ahh-ing at the Christmas lights and decorations on the houses, before stopping at the park for all things snow:  snow-angels, snowmen, and of course snowballs.
We made it back home with all mittens and hats still intact and accounted for.  Which called for a celebration of hot chocolate and snacks while playing board games.  Every year we get a new game for the winter.  This year it was Boggle, which has proven to be more congenial and to generate less competitive friction than Scrabble did last year.  That's a good thing.
And so went our quiet, happy afternoon, the waft and warp of our day unfolding in a steady rhythm.  The winter sun sets early in the upper Midwest, and it was already dark after dinner when we put the babies to sleep, singing Christmas carols for their lullabies.
With the little ones tucked in (at least for the time being), my wife and I sat on the couch, talking and working together as we sewed the "Christmas Puppy"—a stuffed animal for our older daughter for Christmas, made with all Christmas-print fabrics.  I stitched an ear while my wife did the heavy lifting, sewing the body and filling it with stuffing.
While we plied needle and thread, we talked about our Christmas traditions, the things we'd already done and the things still to come, like the concert of Christmas music put on by the local college, and an annual production of Handel's Messiah, which was Daddy's favorite.  We still needed to find a new Christmas story.  We like to read stories out-loud during the vacation days around Christmas and New Years, and we already have a healthy stable of annual regulars like the Nativity Story from Luke's Gospel, The Best Christmas Pageant Ever, The Gift of the Magi, and A Cup of Christmas Tea, but we always liked to work in at least one new book each year, searching for that still-to-be-discovered classic to add to our regular rotation.
Another tradition yet to be fulfilled:  we still had presents to make.  The gift exchange for our extended family has the twist that everyone is supposed to make their presents.  In a pinch, you can buy something if you have to, but despite how busy everyone is, most people still manage to actually make something with their own two hands.  The creativity is always surprising.  Thinking about that got us talking about home-made presents from Christmases past.
As we reminisced, I was struck with how blessed we are.  Here we were, warm,  fed and free, secure with our loved ones.  Very rare things in this world.  Only a small fraction of the Earth's 6 billion people have so much.  I couldn't help but wonder, why us?  Why were we among the lucky ones?
It made me think of King David.  David started life as a lowly shepherd.  Then he became a war hero.  Only to later be a wanted man, hunted by King Saul.  But in time, David became king himself.  The surprises kept coming.  David, the shepherd boy and outlaw turned King, received an oracle in which God told David that God Himself would raise up a son from David's offspring who would be King forever, and God said:  "I shall be a father to him, and he shall be a son to me . . ."  1 Chr 17, 13 -14.  When David heard this, he went and "sat in the Lord's presence, saying:  'Who am I, O Lord God, and what is my family, that you should have brought me as far as I have come?  And yet, even this you now consider too little, O God!'" 1 Chr 17, 16-18.
It's part of the wonder of Advent.  With all that God has given us, there is something more and unimaginably greater yet to come.  It's good to count our blessings and thank God for them, and to remember that we're called to be good stewards of all that God has entrusted to us, as the parable of the talents illustrates.  And Jesus also said that whatever we do for the least among us we do for Him.  But more important than the material gifts God gives us, even more important than the intangibles like our abilities and energy and time, is the gift of God Himself.
That is what Advent is about.  God become man.  God come to dwell among us.  Come to redeem us.  Come seeking His lost sheep—whether they live in a Newport mansion or a grass hut on the other side of the world.  That is the gift that really matters:  Jesus Christ.  And it's been given to all of us, rich or poor, no matter the language we speak or the stars we see in the sky at night.
Still there is the question:  Why?  Why me?  Why all of us?  Why any of us?
Scripture gives us an answer, an answer that is simple, yet infinitely baffling in its mystery:  Love.  God loves "all things that are" and loathes nothing He has made.  Wis 11, 24.  Because "God so loved the world," Jn 3, 16, He chooses to give us the gift of His son, of Himself.  Because He loves us.