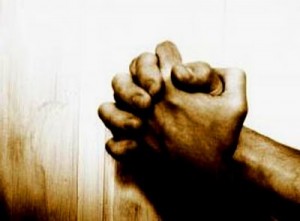 The air was cold, the moon full, the wind biting as I stood in the backyard waiting for the dogs to do their nightly business. First the smaller, brown one; she likes to sniff and explore. Then the taller, younger one — the energetic Australian shepherd who likes to run quickly to the end of the leash, back and forth.
All I could think about was my mom, who had been diagnosed with a brain tumor and was facing high-risk surgery, and my dad, who clearly was concerned. We had to wait to have so many questions answered.
All I could do was pray.
One morning that week, I sat at my desk at work aware a man from church was in the hospital after having suffered a stroke. The last bit of news I had heard wasn't good. I was waiting for more news.
All I could do was pray.
Later, a friend sent me a text message of concern about her teen-aged daughter. The girl is struggling in many ways. The text included something the daughter had written, something that scared me. I didn't know if I would hear anything more about the situation for a while.
All I could do was pray.
Every day lately, it seems, I get a phone call or email about someone dealing with symptoms of severe depression or cancer or some other serious illness. People struggling and in many cases unable to function through life's normal routines. For those with depression, I can recommend they stay in close touch with their psychiatrist and therapist, diligently take their prescribed medications, make sure they talk with family and friends.
I'm trying to follow my own advice as much as I can, because the last several weeks have been a roller coaster for me as well. I do my best every day, an hour at a time. It's tough. And when I try to look at all my options, all the things I want to do to help people … All I seem able to do is pray.
We say that so often when we hear about difficult circumstances in people's lives. "I'll pray for you," we promise. "It's the least I can do."
Sure, we'd like to think we are capable of helping in tangible ways. We would like to find some advice that can make everything better. There are times when we can cook a meal for someone, visit them in the hospital, lend an ear to let someone talk and a chance to let them cry if they need to do that.
Those things seem like effort, great effort in some cases. They might make us feel uncomfortable. Saying a prayer can seem so much easier.
But it's not. Prayer — real prayer — takes thought and concern, time and heart. If you put yourself into God's Presence in a purposeful way, quiet your mind, find the deep intention in your soul and connect with God as you converse with Him, plead with Him, find communion with Him, then you will find prayer is the most you can do for someone.
In the case of my mom, still young at 74, she had her surgery Jan. 31. She now has to work hard at therapy, especially for her speech, but she's alive, the tumor is gone and it wasn't cancer. The friend from church passed away that week of the stroke. And the daughter of the friend is OK for now, though not out of the woods. Some prayers are answered swiftly in a positive way or negative way, and other times we have to be patient for the answers.
Tonight, the air was cold as I stood in the backyard waiting for the dogs to do their nightly business. First the smaller, brown one, then the Australian shepherd. Nothing seemed different to them. All I could think about was my mom and dad, though, and what they are enduring.
And I prayed. It was the most I could do.