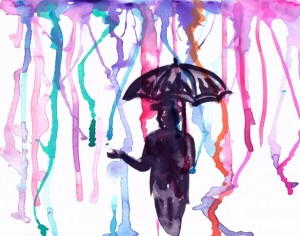 Where do you go when it starts to rain?
That and some related "musical questions" have been playing over and over in my mind for the last few months. They have made for some interesting soul-searching.
For me, the self-examination began on the road. I have to take three business trips annually, all to Kansas and each lasting just a week. Sometimes, the journey is limited to the western side of the metropolitan Kansas City area, from Overland Park all the way to Lawrence. Other times, I'm mostly in Wichita with jaunts as far southeast as Pittsburg and as far south as Coffeyville.
That can make for a lot of driving. I add to the time in the car because instead of flying and renting a car from my destination, I rent a car in St. Louis and drive it back and forth to the places I need to visit. Wichita is a six-hour commute one-way, so that makes for a long trip there Sunday afternoon and back Friday night.
And I love it.
You see, I always make sure my rental has SiriusXM radio. It's the only time I get to listen to satellite radio, and I enjoy so many of their channels. There is "40s on 4" (all music from the 1940s on channel No. 4), which I enjoy because I'm a Big Band aficionado. There are "60s on 6" and "70s on 7" for pop music from the eras in which I grew up. There are Classic Vinyl and Classic Rewind, with some of the best music from the album rock era, and Deep Tracks with some of the lesser-known songs off popular rock albums.
I constantly flip back and forth among those channels, along with the Catholic Channel and others with contemporary Christian music and classic radio shows. Can you see why I actually need those long periods in the car?
But the best, the place I spent most of my listening time, is Channel 71: Siriusly Sinatra. That channel is dedicated to playing standards from the "Great American Songbook" by the likes of Bing Crosby and Harry Connick Jr., Billie Holiday and Michael Buble, Nat King Cole and Diana Krall.
And, of course, the Chairman of the Board: Frank Sinatra.
There are other singers with technically better voices, but Sinatra – whose voice was excellent – is surely the greatest vocalist in pop music history. His phrasing, his interpretation, his charisma had a way of turning good songs into great ones and great songs into truly special ones.
Then, there isn't just the quality of his songs but also the quantity of Sinatra's songs. He recorded in studio more than 1,000 different songs from 1939 to 1993. Many of those were recorded more than once. And there are recordings from his radio shows as well as TV specials. In all, the best estimates I found say Sinatra has more than 1,800 recorded songs.
That's one reason I love listening to the Sinatra channel so much. I'm constantly hearing songs for the first time, like unexpected treasure in a newly excavated time capsule.
In March, for the first time, I heard "Where Do You Go?" The song was written by Arnold Sundgaard and Alec Wilder in 1948 for the musical "Western Star," which never made it to Broadway. Shannon Bolin was the first singer to record the song, in 1957. Sinatra was second, two years later.
Here are the lyrics:
Where do you go when it starts to rain? Where will you sleep when the night time comes?

What do you do when your heart's in pain? Where will you run when the right time comes?

These are the things that I want to know. Where will you hide when the lights are low?

Where do you go when it starts to rain? Where will you sleep when the night time comes?
Profound questions to ponder, to explore. These aren't questions that merit quick, impulsive answers.
Rather, I have found them worthy of considerable time in prayer, reflection and meditation.
Where do you go when the rain falls in life – perhaps accompanied by thunder and lightning and pitch-black skies? Do you hide when the lights are low? Do you run when your heart is in pain?
Where do you go?
I find that when the real storms have hit and the night has seemed its darkest, with no moon or stars offering light, I have places that I should go but somehow avoid. When my depression deepens and my anxiety intensifies, I should go to the bosom of my family – my wife, Donna, and my children, along with my parents and sisters. When my heart is heavy with worry and my soul guilty with sin, I should turn to friends who have pledged support, to my pastor and spiritual advisor, and to medical professionals such as my doctor and therapist.
Before all of that and inside all of that, of course, I should turn to my God – the Father who protects, the Son who befriends, the Spirit who inspires.
In retrospect, I do all of those things … sometimes.
Many times, though, I try to make it by myself first. I feel I should be strong enough. I figure I should be smart enough. I fret that I have bothered everyone – including God – often enough through the years, that they probably are tired of hearing from me, that they have enough problems of their own.
Almost every time: Fail. Epic fail! That message is starting to seep into my hard head and often-addled brain. The longer the song's questions play in my mind, the more I understand that the answers shouldn't be simply general ones, such as God and wife, family and friends. Instead, they should be specific and immediate.
I'm even thinking I should list them out and perhaps ask certain people if they will be there when I call, if they will allow me to hide with them when the lights are low and seek solace with them when my heart is in pain.
Perhaps it's a good question for you:
When it starts to rain … where do you go?