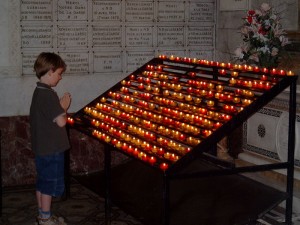 I always have been taught that faith is a gift. And who doesn't love receiving gifts – especially if it is the perfect gift, something sorely needed, something for which we have asked?
That could be faith in anything, I suppose: faith in your family's helping when times get tough, faith in being justly rewarded for a job well done, faith in "the system" working when someone is seeking justice, faith that a good education will result in a good job, faith in spouse or parents or politicians or doctors.
We know, of course, that such faith often is misplaced. Sadly, discovering that can shake a person's faith to its core. And it can make trust a serious issue the next time someone needs to rely on their faith.
Indeed, faith is a gift – something we receive when our senses tell us such a strong belief is foolish. That includes faith in a loving, giving, saving God.
In St. Paul's Letter to the Ephesians, he wrote: "For by grace you have been saved through faith, and this is not from you; it is the gift of God."
So how do we receive this great gift?
Some people are blessed with a unique gift of reasoning their way toward confident faith. St. Thomas Aquinas is such an example. But even he ventured into holy territory that supernaturally surpassed the gift of reason. Apparently, he said that he had learned more from gazing at the crucifix than from reading any book, and he began all his written works in prayer at the foot of the cross.
Faith is …
complete trust or confidence in someone or something.

strong belief in God or in the doctrines of a religion, based on spiritual apprehension rather than proof.
I don't know about you, but I want that. I want that complete trust and confidence in God, even when I don't have the kind of proof that can be found in a book or a picture or a reasoned explanation. Yes, that's a gift I would like to receive.
I suppose God could just give it to me. He knows I need it and would enjoy possessing it.
That's what Donna, my wife, seems so good at doing every Christmas. She has a knack for knowing me, my children and my sons-in-law so well that when it comes time to buy gifts, she gets something that is so personally perfect for each one. She pays attention throughout the year, remembering when they mentioned something they would like or a genuine need.
God is like that on an even grander scale. He is constantly paying attention, always walking with us. He knows our desires. He knows our needs better than we do. God knew we needed to be saved, for instance, and sent His Son to suffer and die even though we didn't realize what that would mean for our eternal life. Our Father knows what a strong faith would mean to each of us. He could just provide it, no questions asked, and He indeed does that often.
But we are unique among all His creatures. We have the ability to do as we want, think as we want, behave as we want. We have free will. God wants us to love Him, believe in Him, have faith in Him because of our desire.
So we each can have a strong faith. All we need to is ask.
Jesus gave us that advice. In the Gospel of Matthew, our Lord said:
Ask and it will be given to you; seek and you will find; knock and the door will be opened to you. For everyone who asks, receives; and the one who seeks, finds; and to the one who knocks, the door will be opened.
Sure, maybe those are just words, but … Have you ever asked God for faith? Have you ever gone looking for Him, knocked on His door and requested such a gift? Look, He wants you to have it. He wants you to believe deep in your heart that He loves you and that you welcome that love because of your deep trust and affection for Him.
You might not believe in Him with 100 percent certainty. You might be the kind of person who doubts without clear evidence, or you might have been hurt in some way that makes you wonder how any God could be loving if such pain is allowed. Or perhaps you simply never saw the need to make room in your life for God.
That's OK. God knows all of that – and more.
What would it hurt, though, if you asked Him for this gift? Knock … and see if He might be home to talk a while. Seek … and discover that you might actually need faith in a loving, forgiving, understanding God. Ask … ask with an open mind or with one still filled with doubt … and hold out your hands and arms to receive.
Even though I feel like I have a strong faith in God, I know it can be deeper and more confident. For instance, I've always promised I would pray for people who ask and for people in my life. And I do that. But a part of me held back a little, uncertain if God really would answer my prayers or perform the miracle that might be requested.
I asked … but didn't always expect to receive.
I sought … but wasn't sure that I would find what I was seeking.
I knocked … but didn't always expect the door to open.
I intentionally have tried to change that attitude during my regular prayer time in the last few months. I set my computer (while at work) and phone (while at home) to give me an alert every hour, on the hour. At that moment, I stop what I'm doing, close my eyes and prepare to thank God for my family, my closest friends and people who have asked for some specific and somewhat urgent need. As I mention each person by name, I try to picture their face, ask God's blessing upon them and share with Him what I think they might need at that time. And I ask Him to not only fulfill that need but to put within me the faith to know that He can do all things.
Before I do that, though, I ask for two things for myself. The prayer goes something like this:
God, come to my assistance. Please accept me into your presence. Let me sit on your lap and feel your arms hugging me tightly yet gently. Allow me to know that you love me. Give me the peace that comes with such knowledge. And please place within my heart, mind and soul a burning desire for you to be first and foremost in every area of my life. Make the fire of that desire burn away all my sinful inclinations, temptations and evil desires. Please, give me a deeper faith.
It's amazing the peace I find even when surrounded by ringing telephones and talking people. It's amazing that when I ask, I receive.
Try it. Ask for faith. That might be all God wants – for you to knock at his door. The gift awaits you.