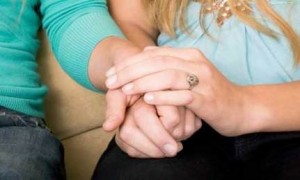 This evening on Facebook, someone posted one of those reassuring Pinterest boards that read, "Sometimes in life we just need someone to be there for us. Someone who will listen.  Someone who will understand us."
In past years, I would have grabbed onto this one and held tight.  But I've come to believe that when we really feel deprived of SOMEONE, we must be a SOMEONE and remember that if we have Jesus, we are not not needy; we are poor in spirit.
Today's Responsorial Psalm gives us fighting words of prayer for these times of loneliness, "Give me back the joy of Your salvation, and a willing spirit sustain in me" (Psalm 51:17).  It's in these times that we need to pick ourselves up by the scruff of our necks and quickly set out into the world to be a SOMEONE.  There are countless SOMEONES lonelier than we are, and they're not hard to find; hospitals, nursing homes, cancer wards…the street.  God will put His SOMEONE in front of us. The moment He sees us using our will to be His Heart, the Holy Spirit arrives.
Check out the back pew of the church; you'll often find SOMEONE sitting there next to their tears. We don't need their story, but can lay a hand on their shoulder or share a knowing smile.  The Catholic Church has powerfully beautiful holy cards and pamphlets, filled with the strength of God's Truth. Softly drop one next to SOMEONE, or make your own heartening little Pinterest-type card to give.
And should we find they want to share their story, we don't need a SOMEONE degree to listen.  All we need is Love.  "…do not worry about how you are to speak or what you are to say.  You will be given at that moment what you are to say.  For it will not be you who speak, but the Spirit of your Father speaking through you" (Matthew 10:19-20).
Jesus wants to be our SOMEONE by faith so that through us, His other SOMEONES might find His compassion, "…for in You the orphan finds compassion.  I will heal their defection, says the LORD, I will love them freely"  (Hosea 14:4-5).