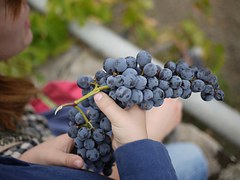 I like wine, red and dry. My preferences are Chianti and Merlot. A bottle of Cabernet, Pinot Noir or Petite Syrah will do in a pinch. Some brands and years taste better than others, but I'm not a connoisseur. I'm not picky about the wine coming from Italy or California. For me, good wine is fine wine.
I hope I'm being turned into fine wine. I have to hope that. If I don't, then every day could be futile, every breath labored and every step plodding on a journey to nowhere.
Anyone who has faced some type of adversity might understand. And I haven't yet met a man or woman who hasn't experienced some type of adversity.
My most imposing life's challenge is in my face from the moment my alarm clock sounds each day – usually a few hours before that, when I awaken on my own and watch that clock. This has been the beginning of my morning routine for the last two weeks and will be for another four, thanks to transcranial magnetic stimulation treatments to fight my depression and anxiety:
Step out of bed no later than 7 o'clock, shower, dress, and drive about 20 minutes to Center Pointe Hospital in St. Charles, Missouri. Sit in a chair similar to what you find in a dentist's office. Wait while Annie, a nurse who essentially runs the treatment program, affixes the machine to my head. Feel somewhat annoyed while a magnet pulsates against my scalp for 4 seconds and rests for 26 seconds until about 38 minutes have passed.
Thankfully, I'm not alone and thus not bored. I pass the time talking with either Thomas or Brittany, a couple of technicians who monitor the machine. No matter how bad I feel, we find something to discuss. Several days into the treatment, Brittany asked me several questions for a "self-assessment" to determine if there had been any improvement in my depression or anxiety after five days. On the ninth day, Thomas probed a little more deeply for a "clinician's assessment."
As we went through the questions, I started feeling even more dejected and depressed than I had been when I entered the room. I realized that I had made no progress at all. Even though Annie, Thomas and Brittany have warned me it can take more than a couple of weeks to see improvement, it felt disheartening to realize I'm actually worse now.
Thomas reached the final question: "Do you still have hope?" I answered immediately, not pausing for even a moment of introspection.
"Of course I have hope," I said. "I've always had hope. That never has been a problem in all these years. I have faith God will take care of me." I told him that during my Morning Prayer less than an hour earlier, I had prayed these words from St. Paul's Letter to the Romans:
What will separate us from the love of Christ? Will anguish, or distress, or persecution, or famine, or nakedness, or peril, or the sword? As it is written: "For your sake we are being slain all the day; we are looked upon as sheep to be slaughtered." No, in all these things we conquer overwhelmingly through him who loved us. For I am convinced that neither death, nor life, nor angels, nor principalities, nor present things, nor future things, nor powers, nor height, nor depth, nor any other creature will be able to separate us from the love of God in Christ Jesus our Lord.
Thomas once was a student at a Bible college. He didn't need any elaboration. He knows the Source of my Hope. "That's from Romans 8," he said. He understood.
I could have elaborated more, however. Much, much more. I could have talked about one of my favorite Catholic songs – "Here I Am, Lord," written by Dan Schutte in 1981, one that I frequently hum without even realizing it and then singing to myself as I walk alone somewhere or drive home from work. It recalls the moment in Isaiah 6:8, when Isaiah heard the voice of the Lord calling out "Whom shall I send? And who will go for us?"
"Here am I. Send me!"
Isaiah said that in response to the Lord's call. I frequently have said the same when I heard a similar call. It might not be quite as demanding as what the prophet felt about eight centuries before the birth of Jesus. Yet no matter who you are or the nature of the call, responding affirmatively is tantamount to accepting a great yoke.
Scottish evangelist Oswald Chambers explained thusly:
This call has nothing to do with personal sanctification, but with being made broken bread and poured-out wine. God can never make us wine if we object to the fingers He uses to crush us with. … If ever we are going to be made into wine, we will have to be crushed; you cannot drink grapes. Grapes become wine only when they have been squeezed.

I wonder what kind of finger and thumb God has been using to squeeze you, and you have been like a marble and escaped. You are not ripe yet, and if God had squeezed you, the wine would have been remarkably bitter. We have to be adjusted into God before we can be broken bread in His hands. Keep right with God and let Him do what He likes, and you will find that He is producing the kind of bread and wine that will benefit His other children.
That's the kind of bread and wine I want to be. To reach that point, though, the dough and the grapes have to endure nothing short of physical force and violence, tribulation and trouble. So rejoice when the adversity appears and intensifies. God is preparing you for something special. And none of this will separate me from Christ's love.
I hope you like wine.