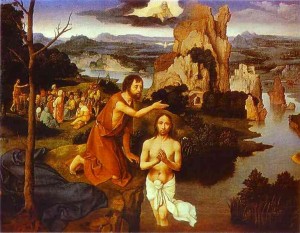 They forgot the God who had saved them, who had done great deeds in Egypt"
Why Do We So Easily Forget?
Today our readings remind us that the Israelite's very easily forgot the love of God and the wonders he performed to bring them out of Egypt. In my own life I can look back to a time where I very much lived in Egypt and was a slave to sin. I cried out to God many times to save me and he did.
Even though God has done some wonderful things in my life I continue, at times, to lack faith. I find myself complaining about not having more when I already have so much and I sometimes wonder where God is during my struggles. Then I remember where I was several years ago and I realize that I already owe God more than I can ever afford. Why is it, then, that I sometimes forget all that he did to bring me out of slavery?
The Sign Is Only A Sign
I think the answer can be found in today's Gospel. Some of the Jews had a very hard time believing Jesus was the Messiah. As justification for their lack of belief they often cited their loyalty to one of the Israelite fathers like Moses or Abraham. We know now that the lives of Moses and Abraham foreshadowed the life of Jesus Christ. Their spiritual fatherhood was a sign and reflection of God's true fatherhood.
We have been given many aids to help us in our faith journey. God gives us families, prophets, Scriptures, and even performs miracles, to help us in our journey to eternal life with him. While all of those things are important they are simply signs that point us in the direction we need to be headed.
Our problem is that we often forsake the sign for the destination. We get caught up in the beauty and pleasure of the sign and we fail to make the full journey to the destination. For example, marriage, as great as it is, is only a sign that points us to the eternal marriage with Christ. Even the prophets point to something greater than their selves.  In today's Gospel Jesus says, "He [John the Baptist] was a burning and shining lamp, and for a while you were content to rejoice in his light. But I have testimony greater than John's… You search the Scriptures, because you think you have eternal life through them; even they testify on my behalf."
If we live for signs we will always find ourselves asking for more because their very purpose is to proclaim that there is more! They tell us to keep going toward our destination. Ultimately, our destination is a relationship with Jesus. This Lent let us continue to forsake the goodness of material signs so we may be reminded that we are meant for something greater.