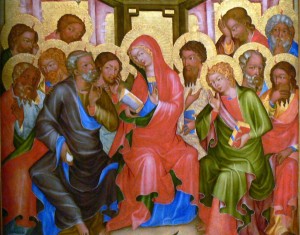 Passing on the faith at home with Marian piety
During his installation at Holy Name Cathedral in Chicago last November, Archbishop Blase Cupich challenged those in attendance to pass on the faith to young people through their "authenticity of life, where words match deeds." The message was not just for Catholic teachers and youth ministers, but also for fathers, who have a special, God-given mission of handing on the faith to their own children.
The Church teaches that marriage, by its very nature, is ordered toward the good of the spouses and the procreation and education of children. The education emphasized refers primarily to religious education. Catholic fathers are charged with raising future Catholic adults, men and women with a mature understanding of Gospel living.
However, in this age of Snapchat, Twitter and Instagram, a father's job as family rabbi can seem most daunting. Fortunately, fathers have a secret weapon in this struggle to shape the hearts and minds of our children toward Jesus. We must seek the assistance of our children's mother, their Blessed Mother.
This is not to suggest our children's earthly mothers are unimportant. Instead, both husbands and wives can best educate their children in the faith by turning to Mary and fostering a genuine Marian piety in the home. As we begin the new year, just days after celebrating the Solemnity of Mary, Mother of God, there is no better time than now.
Who better to teach them about the joy of Jesus than the woman who wrapped him in swaddling clothes and brought him along to a wedding feast? Who better to teach them about the suffering Christ than the woman who met him on the road to Calvary, and then witnessed his sacrifice in the Cross? Mary holds within her Immaculate Heart more insight about her Divine Son than every single Church document combined. And she freely shares these secrets with those who call upon her heavenly intercession.
I'm not proposing that you have to memorize and celebrate every Marian feast day. But we should start with two basic devotions: the rosary and brown scapular. Both are ancient and powerful. The rosary presents the most important events of the lives of Jesus and Mary for our meditation, while the scapular emphasizes Mary's desire to protect our souls from harm.
These devotions are especially potent with children because they are both very tangible. Fathers with a rosary in their pocket and a scapular around their neck will be better equipped to pass on a love—and a visual daily reminder—of Mary to their children.
If Catholic families make Marian piety a foundation in the home, they will be best prepared to accomplish what Archbishop Cupich described as the "formidable task of passing on the faith to the next generation, of evangelizing a modern and sometimes skeptical culture, not to mention inspiring young people to serve the church as priests and religious." This "all seems so daunting, as daunting as walking on water," he said. Just about as daunting, one could say, as turning water into wine.
There are other things that go along with a full education in Catholic faith—Scripture reading, mental prayer. But for a strong foundation, one needs a genuine Marian piety.
So, in some ways, the best way to be a Catholic dad is to let Mom take over.
Reprinted with permission from FathersForGood.org.