I recently had the pleasure of reading Difficulties in Mental Prayer by M. Eugene Boylan, O.C.R. Ave Maria Press has issued a new edition of this work which was first published in 1943. Obviously the world has changed a great deal in nearly seventy years. The Church has changed a lot as well, as has the way we speak about prayer.
One thing that hasn't changed is human nature and the difficulties we can have with prayer. That is why this book is still of great value for those struggling with prayer. As Michael Casey, O.C.S.O. states in the Foreword of this new edition, "Whatever the difficulties encountered by someone trying to pray, those caused by not praying are greater."
Fr. Boylan does indeed emphasize this point. "Spiritual reading and mental prayer are as necessary for the life of the soul as the daily food is for that of the body." When one engages in spiritual reading, one should always send up a quick prayer for help so that one may discern God's particular message for that individual. A good example of such a prayer is "Speak, Lord, your servant is listening." Mental prayer is thinking about and talking with God, "a conversation which may develop into 'looking at God and loving Him.'"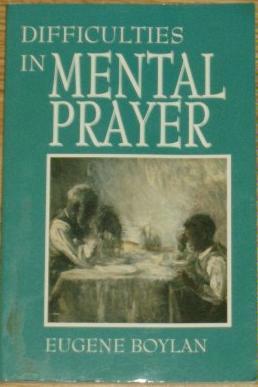 One of the main difficulties in mental prayer is that of distraction. Our minds seem to wander everywhere but the task of the prayer at hand. Fr. Boylan offers a simple solution. "If there is something that keeps coming in as a distraction, let us turn that into a prayer by talking to Our Lord about it. . . The great way to convert distractions into prayer, and to change a bad or an imperfect will into holy determination, is to talk to Our Lord about them, just as one speaks to a friend."
Fr. Boylan also speaks of the importance of orienting our whole life towards God in order to progress in our spiritual lives. "Prayer will not develop unless the soul is advancing towards the fourfold purity of conscience, of heart, of mind, and of action." Unfortunately, all too often, "we want to meet God on our own terms; we want to make a compromise; we want to work with Him at certain times and in certain ways, but to put it crudely, we want to be rid of Him in other circumstances. That is just the trouble: One cannot get rid of Our Lord for a time. He is there all the time, and one either treats Him as a permanent friend, or else has a 'difficulty' in prayer."
Fr. Boylan also speaks of the value of sacrifice and mortification. "We only put ourselves to death – that is what 'mortification' means – in order to clear the way for Christ." He also addresses the argument of not needing to pray because we are involved in lives of service and our lives are therefore prayer. "Although all our acts can be prayer, they will not be so unless there are some acts which are nothing else."
 Difficulties in Mental Prayer is of great value to anyone seeking to deepen his or her relationship with God. At one time or other, we all struggle in our prayer lives. Fr. Boylan offers encouragement and concrete suggestions to help us strengthen our prayer and commitment to God.