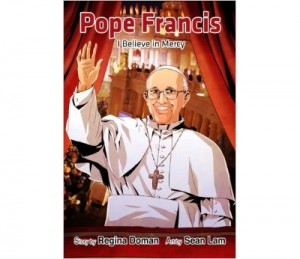 Known for their work on the Manga Hero edition of Habemus Papem which told of Pope Benedict XVI, the creative team of Regina Doman as writer and Sean Lam as artist has once again joined to tell a pope's life story. This time the attention is on Pope Francis. Intended for teens and young adults, Pope Francis: I Believe in Mercy hits all the crucial points of Pope Francis' life to date.
It begins with Jorge Bergoglio as a twelve-year-old who thought he was in love with a young lady. When her father told him to leave her alone, he jokingly told her he would become a priest instead. But his true call wouldn't come until years later. The manga tells of Bergoglio's lung disease which resulted in the removal of part of his lung and a difficult recovery. It also shows his joining the Jesuits and his efforts to help priests during the political turmoil of Argentina. Pope Francis follows the future pope as he ministered to the people of Buenos Aires, reaching out to the poor and marginalized. In 1992, he became a bishop and as the Archbishop instructed him, the Diocese of Buenos Aires became his bride. When the Archbishop died in 1998, Bishop Bergoglio took over the role but eschewed all of the trappings that came with the office. The manga emphasizes his desire to live simply and minister to all. It concludes with his election to the papacy and the continuation of his simple way of life.
The story of Pope Francis is interwoven with scenes of Jesus from Scripture. There are also passages from Pope Francis' writings and homilies.
Because of the subject matter included, especially in the dark days of Argentina, Pope Francis: I Believe in Mercy is definitely intended for teens and young adults rather than children. It may be helpful to have a previous acquaintance with the life story of Pope Francis as well – it is possible one might become confused in some parts without it (either that or one might read this, then go on to read more about him to learn more). Overall, however, Pope Francis: I Believe in Mercy is extremely well done and is a way to inspire young people to follow Jesus as Pope Francis has striven to do in his own life.