I chose to review The Catholic Briefcase for three reasons.
It is written by a convert, like I am. 
It is written by a man who successfully integrates his faith in every aspect of his life, like my husband does. 
When I once carried a briefcase as a career professional, but not yet a Catholic, it was the people who lived the way Randy Hain, the Business Manager and Senior Editor for The Integrated Catholic Life eMagazine (www.IntegratedCatholicLife.org), advises in The Catholic Briefcase who impressed me, people of faith in the workplace. Though they may not know it, their testimony was influential later in my decision to become Catholic.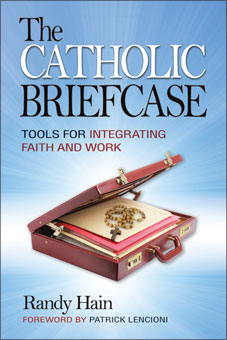 Thus, I endorse this book with full conviction. I've often thought, "If faith isn't everything, then it's nothing." There can be no division or compromise when you realize what it means to have faith, and that is what Randy Hain addresses in his book, "integrating faith and work." This book is as useful for young professionals just beginning a career as it is for more mature professionals already navigating a career. It's practical, no-nonsense, cogent information delivered in a way that doesn't dull the beauty and fullness of the Catholic faith. The reader is not left with a sense of guilt for all that he has failed to do, but rather a sense of awakening to the excellence of living a coherent life of faith that makes sense.
If you are like me, you ask yourself in this digital age, "Do I need this book sitting on my bookshelf or not?" I have e-readers but I still reserve shelf space for the more meaningful books that I actually want to put in my hands or pass around to friends. The Catholic Briefcase is a book written for those with careers – either single or married – and while I am a homemaker, this is something I would hand my husband if he asked me for something to read, which he often does. I'd want to see it poised on the shelf because it's a little treasure, a gift and reminder, whether you read a chapter or the whole thing in one sitting. Further, it's valuable to the spouses of those with careers. Having read it myself, I am now in mental possession of some tools to offer my husband as he de-compartmentalizes his life and seeks to fully integrate his job with his greater vocation as man of God, husband and father.
In the early part of the book Randy Hain puts a list of compelling questions to the reader: "Do I want to be a better spouse?" "Do I want to be a better parent?" "Do I want to be a better friend?" "Do I want to be a better leader at work?" Who doesn't? The book contains explanations from other career professionals and role models. When you read their accounts you think, "Yes, that's the way to be.
The content is full. By that I mean there are passages the will leave you smiling, or almost in happy tears, and there are passages that will suddenly challenge you. There are passages that will leave you very serious, and passages that will give straightforward practical wisdom. Of course integrating your faith with all you do, including your time at the office, is the right thing to do and everyone knows it. It would be easy to write a flowery book all about nice ways to do that, but if there is no attention to the very real issues men and women face when they do live their faith openly, without compromise and without apology, then the flowery language won't inspire courageous action, for it is only platitude. Randy Hain did not sugar-coat any real life difficulties, but in addressing them he also proposes the means to find the inspiration and support that are needed to successfully live your faith more fully anywhere you go.
In the middle of the book there is a touching story about how the simple, but not showy, act of making the sign of the cross before meals in public touches people unexpectedly. It is a sign of courage. He asks, "What would happen if everyone who reads this makes a simple commitment to make the sign of the cross and say a blessing over every meal from now on, regardless of our companions?" Indeed. That is a worthy, simple and true challenge.
The Catholic Briefcase is appropriately tailored for the audience, career professionals, that is – people who carry briefcases. However, the practical advice and inspirational encouragement apply, or at least can be extended easily, to people who carry other things, like backpacks, purses, diaper bags, or gym bags. So, maybe we can expect a series of these books from Randy Hain in the future: "The Catholic Backpack" for students, or "The Catholic Purse" for women, or "The Catholic Diaper Bag" for new parents, or "The Catholic Gym Bag" for athletes. I think Mr. Hain is on to something special here, and relevant for our times.
In the end of the book the reader is clear what powerful tools should fill a Catholic briefcase, and there is a lengthy section of appendices for anyone interested in putting what they have read into even further action. Appendix Two is my favorite, and my life is better for knowing it now. Consider that a teaser.
Thank you for a excellent book, Randy Hain!
[Editor's note: Marcus Grodi's Interview with Randy Hain will Air on EWTN's The Journey Home – Monday Evening, December 26, 2011 at 8:00 p.m. ET]